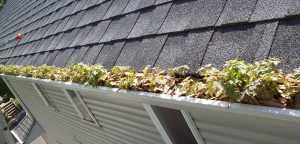 Your gutters provide a very important function for your home. They allow rainwater to flow away from your roof to the ground, protecting your siding and foundation from costly water damage. The main issue homeowners have with gutters is routine maintenance. Many months can go by without ever thinking about whether or not your gutters are clogged and may need to be cleaned. One solution to keep your gutters free of leaves and debris and to install gutter guards. Minnesota Leafless Gutters specializes in gutter guard installation in Apple Valley MN. Gutter guards are sometimes called gutter covers, gutter filters, or gutter toppers. No matter what you need for your home's gutter system, our team can help.
Benefits Of Installing Gutter Guards On Your Home
There are many benefits of installing gutter guards on your existing gutter system or when you replace your current system. Gutter guards allow only water to flow through your gutters and keep them free of leaves and debris that you have to climb up on a ladder and fish out. You also do not have to spend money for professional gutter cleaning (which can cost $150-$200 twice a year). Gutter guards protect your home from water damage as they help the water flow on a path that will not damage your foundation or siding. In addition, gutter guards can prevent the growth of mold and mildew and rotting wood. Mold can grow in gutters that are not covered and in areas where water and debris flow out as well. Finally, adding gutter guards to your gutter system can protect your home's roof and foundation, two of the most important parts of your home.
Apple Valley Gutter Guard Installer
Minnesota Seamless Gutters can install gutter guards for your new seamless gutter system or for your existing gutters, depending on your needs. Our gutter guards come in a wide variety of colors and materials and will add to the look of your home. If you have questions about how gutter guards work or how they might help protect your home, give our team a call at 612-221-0362. We will be happy to come out to your Apple Valley, MN home and help determine the best gutter guards for your property. We can also complete a routine assessment of your gutters and roof while we are there to ensure that you do not have any potential problems.