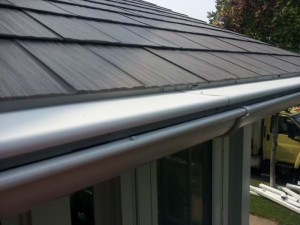 Everyone has heard the term "April showers bring May flowers". April is upon us which means instead of seeing white snow falling from the sky, we all will now hear the pitter patters of rain falling down. I don't know about you but I am ready for a change of season scenery! The real question you should be asking yourself is not if you are ready (which you are) but if your home is ready for the rain to pour. If you lack gutters or have debris caught in your gutters your answer is no. Minnesota Leafless Gutters can get your home properly equipped for the rainy season before any damage occurs.
Gutters Protect your Home
The main function of a gutter and downspout system is to carry the rain water falling on your roof away from your homes foundation. If all the water was not channeled away from your home, ground erosion, landscaping damage and a multitude of foundation problems can occur.  It is important to protect your home with proper functioning gutters to ensure costly damages do not occur.
Hazards to your Gutters
As explained above, your gutters provide protection for your home but what defends the gutters themselves? Leaves, shingles, branches, acorns and other debris can clog a gutter system. A gutter clog is a huge problem because it will disrupt proper working order.
It is a good idea to get your gutters inspected twice yearly, in the spring and in the fall.  An inspection will bring to light any gutter problems, such as clogs, pooling water, sagging, holes and any cracks that need to be dealt with.
Unfortunately, having an inspection is not the only maintenance step; if you personally notice branches or leaves piling up in your gutters it is important to take action. That includes getting on a ladder and hand removing the remains yourself, which can be quite a dangerous and frequent maneuver, especially come fall. There is a way to prevent all of this time consuming maintenance with two words, gutter guards!
Gutter Guards
Gutter protection products are a maintenance free addition to your new or existing gutters. Gutter guards cover gutters and prevent debris from entering and damaging the gutter and downspout system. This restriction means no more hand removing leaves every fall and never again needing to climb that ladder because of your gutters, they are protected from the elements.
If you are interested in complete installation of gutters, downspouts and gutter guards or would like custom made gutter guards for your existing gutter system call Minnesota Leafless Gutters at 612-221-0362 today!