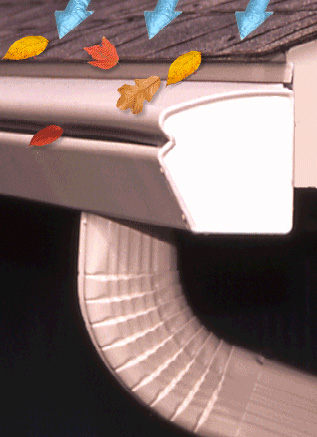 For many, fall is their favorite time of year because it is not too hot and not too cold, and the colorful leaves make for a beautiful setting. However, when it comes to gutters, the fall brings an influx of leaves that can quickly clog up your gutter system. Be proactive and get St Paul gutter guards installed before the leaves start to fall, and it is one less thing you'll have to do before the snow flies in this region. If you are in the market for gutter guards, Minnesota Leafless Gutters is the partner for you!
No More Gutter Cleaning
For most people, there is no more annoying chore than having to pull out the ladder and clean out your gutters every few months. Investing in gutter guards is a great solution to this dangerous and time consuming project. Our gutter guards protect your gutter system from leaves and any other debris that may make its way towards your roof. At the same time, it allows water to run through your gutters and down the spout. If you'd like the whole package from Minnesota Leafless Gutters, we offer our seamless gutters with guards, or we can add guards onto most existing gutter systems. Once you let our dedicated team install gutter guards, you'll be able to keep that ladder in the garage where it belongs! These gutter guards are not an eyesore as we can match them to any color that you would like.
Avoid Damage
Gutters that are filled with leaves and debris can cause significant damage to your gutter system as well as your home. The reason is because rainwater is not able to quickly drain out of the downspouts because of the excess debris that has built up in your gutters. This causes your gutters to overflow, defeating the entire purpose of a gutter system. Gutters are designed for a purpose, to protect your home and keep it dry. If you are sick of getting up on the ladder a few times a year, or you are fed up with having to pay someone to clean your gutters, investing in gutter guards is the way to go!
Before the fall hits, make a commitment to gutter guards for your home. Let Minnesota Leafless Gutters handle your gutter guard installation in St Paul, MN. Give us a call today at (612) 221-0362 to request a free estimate.