Help For Gutter Problems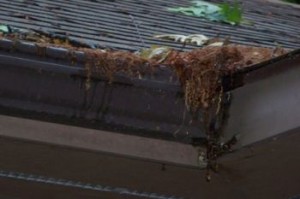 Your clogged, leaky rain gutters are not doing the job that they are meant to do. When you are experiencing "issues" with your current gutters, you want to find help before the damage is done. Rain gutters are a crucial part of protecting your home from costly water damage. Burnsville, MN homes will benefit from professional gutter installation using Custom Fit, High Quality, Seamless gutter materials. Minnesota Leafless installs gutters made of the thickest gauge metal for superior durability and highly effective protection.
Custom Fabricated For No Clogs, No Leaks, No Worries
The gutter materials you choose matters. Traditional gutters have lengths of gutter pieces that are connected together creating multiple seams and gaps. These seams will deteriorate over time when subjected to Minnesota weather conditions. Inferior metal quality cannot stand up to Heavy Snow, High Winds, Rainstorms or the Freeze-Thaw cycles of a typical winter.
Seamless gutters from Minnesota Leafless Gutters are fabricated on-site for a custom fit every time. We professionally install new gutter systems using only the highest gauge metal in the industry. When partnered with matching Gutter Covers, they provide the longest lasting and affordable protection without the clogs, leaks or worries.
Aluminum Seamless Gutters And Downspouts
Provide a Low Cost solution
Made of Recycled Materials
Great selection of Colors and Finishes
Copper Seamless Gutters And Downspout Systems
Highest Quality and Most Durable rain gutters
Very Low Maintenance
Beautiful and Timeless addition to your home
Steel Seamless Gutters And Downspout Solutions
Good Choice for homes in Burnsville, Minnesota
Stronger Metal than aluminum
Made to handle the weight of Heavy Snow and Ice
Expert Seamless Gutter Fabrication And Installation
Minnesota Leafless Gutters provides professional gutter installation using the highest quality materials and thickest gauge metal. With 18 years of experience, we are industry leaders in Seamless Gutter Fabrication and Installation. We offer affordable gutter solutions with unheard of Lifetime Transferable Warranty for labor and materials!
For a Free Estimate Call: 612-221-0362
Email: Tim@mnleaflessgutters.com
Or Fill Out This Short Online Gutter Estimate Form