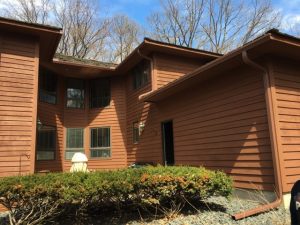 Living in Maplewood, MN, it is critical that your gutters function properly. Why, you may be asking? Well, a functioning gutter system is what helps protect your home from the rain, snow and ice runoff from your roof. If you've noticed your existing gutters failing recently, don't ignore this issue. Instead, reach out to our experience gutter installation company at Minnesota Leafless Gutters. We're committed to providing you with long lasting gutters that fit seamlessly to your home. We also offer a transferable gutter warranty. This is one more way to ensure the value and sell-ability of your home when you decide it is time to upgrade or downgrade your living situation.
Professional Installation Team Maplewood, Minnesota
When it comes to choosing a gutter installation company in Maplewood, MN, there's no better installation team than Minnesota Leafless Gutters. From the very beginning, we make sure to always keep the best interests of our clients in mind. To start off on a good note, we are proud to offer a free gutter inspection and consultation. With this free estimate, you'll get an honest and accurate cost breakdown regarding your new gutter system. You'll find that our pricing is very competitive and there is no pressure for you to make a decision that you aren't comfortable with. In fact, we want our clients to be completely comfortable with their gutter installation investment. Once you commit to our team handling your gutter installation needs, you can count on our professional installation team to complete your project on time. Additionally, we'll be sure to leave your yard extremely clean!
Diverse Gutter Selection
At Minnesota Leafless Gutters, we do not want to force our clients into a new gutter system that they aren't thrilled about. That's exactly why we offer a full range of finish and color options for our clients to choose from. Additionally, our clients are able to choose from our aluminum, steel or copper gutter systems depending on their budget and long-term goals. With every gutter installation project that we take on, we make sure that the final product fits seamlessly to your home. This not only ensures that your home is protected but it helps make sure that your new gutter system will be around for decades.
If you believe that it may be time for you to replace your worn out gutters, Minnesota Leafless Gutters is a gutter installation company in Maplewood, MN offering the total package to our clients. We not only provide elite installation services, but our materials used are the best on the market as well. To request a free estimate on a new seamless gutter system, give us a call today at (612) 221-0362 or email mnleaflessgutters@gmail.com.