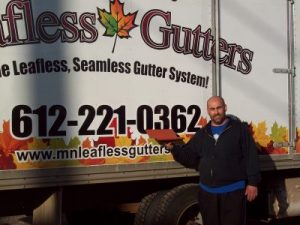 Living in St. Paul, MN, residents get a lot of snow and ice in the winter and heavy rains during the spring and summer months. If you are a homeowner, it is important that your home has functioning gutters. Whether you are in the process of building a new home or you have an older home that is need of new gutters, our team at Minnesota Leafless Gutters is a reliable and affordable gutter installation company that has a passion for serving this great community with maintenance free gutters. Our customers are the number one priority, so ensuring that your gutter installation process goes smoothly is critical.
Gutter System Options
At Minnesota Leafless Gutters, we provide our customers with a wide variety of options. We offer more than 115 gutter color options that can really help bring the look of your home all together. Depending on the type of investment you are looking to make, we offer our maintenance free gutters in aluminum, steel or copper. Lastly, our gutter installation experts give you the option to choose between one of the following gutter system options:
● Half-Round Style Gutters – While this style is more popular in homes built prior to the 1960's, this type of gutter is making a comeback thanks to a very unique feature. With the half-round style gutters, all of the water is drained totally out of the gutters after each rainfall. This reduces the need for cleaning and keeps those unwanted bugs away that are attracted to standing water.
● K-Style Gutters – This is our most popular gutter style option. These gutters create an appearance similar to crown molding, which looks great on houses of all styles. This style gutter can transport greater amounts of water and tends to be sturdier than the half-round style gutter. These gutters are however, more difficult to clean and also have a greater chance of buildup.
Lifetime Transferable Warranty
When it comes to labor and materials, your gutter installation from Minnesota Leafless Gutters comes with a lifetime transferable warranty. We have total confidence in the installation done by our professionals as well as the quality of the materials that we use. If you ever decide to sell your house after your new gutters have been installed, this same warranty can be transferred over to the new home owners, which is a great selling point!
So, if you are in the middle of building a new home or if your existing gutters need to be replaced, choosing the right gutter installation company is vital. If you are in the St. Paul, MN area, our dedicated gutter installation team at Minnesota Leafless Gutters is eager to help you with this home improvement project every step of the way. Give us a call today at (612) 221-0362 to learn more about our maintenance free gutters.