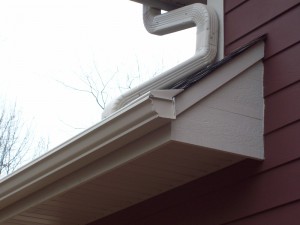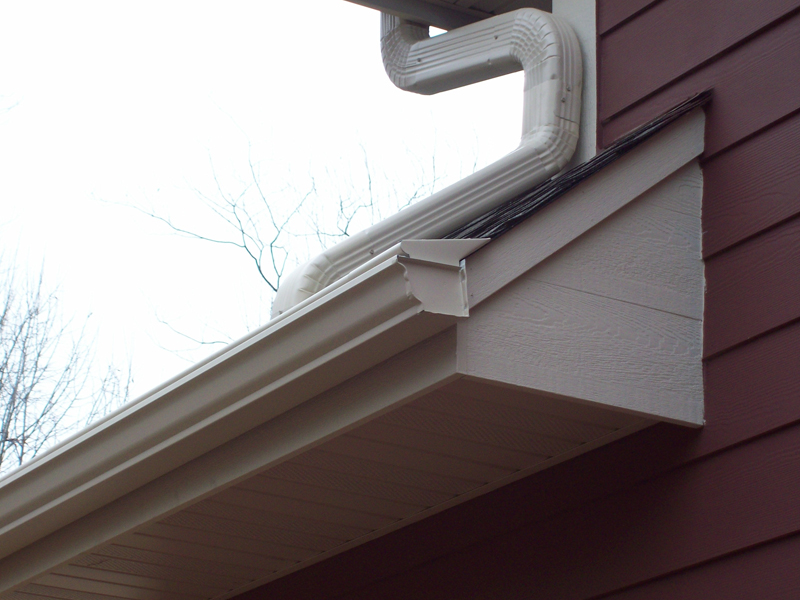 Having a proper gutter system on your home not only protects your home, but your yard as well. Each home is different and so the needs for each home are different. If you have a home that has more than one rooftop level or multiple angles, you could be facing more problems than a home that has one roof draining down. Now imagine if you live in a heavy treed area. All those leaves in the fall can be a headache. If you live in the Eagan, MN area and are in need of new gutters or covering your current gutters to keep them clean, look no further and call the professionals at Minnesota Leafless Gutters.
Different Gutter Materials, Accessories and Styles:
Seamless Gutter Systems
Having seamless gutter systems are crucial for those who live in heavily treed areas. Our gutters are made without seams, allowing for the water to pass through the gutters smoothly, not leaving leaves or debris behind. You'll never have to worry about a leak from the caulk rotting away with traditional gutters.

Copper Rain Gutters
This type of gutter is the lowest maintenance gutter in the market. This is the best quality metal you can use, not to mention these gutters can last upwards of 50 years. They may be more spend-y than the traditional gutter but over time you'll save money. Like the saying goes, "you pay for what you get." Copper Rain gutters do not rust or corrode over time. That sounds pretty good for us Minnesotans with the amount of moisture we deal with in one calendar year.

Aluminum Rain Gutters
This is our low-cost system and the system that you'll see on most homes. Also corrosion resistant like the copper gutters. These gutters need to be cleaned more often than not. Which means you'll be climbing that scary ladder every spring and fall and possibly even more depending where you live, just to keep your gutters clean so water isn't spewing over and onto your freshly planted flowers.

Steel Rain Gutters
These gutters are great for us Minnesotans since we deal with a lot of snow and ice. Steel gutters are extremely strong and don't bend when all that weight is on them. The downfall of steel is it rusts quickly so you'll need to make sure their painted or coated before installed on your home.

Gutter Cover Systems
Our gutter covers are designed to keep leaves and debris out of your gutters. Again, this is perfect for those who live in heavy treed areas. You can store that ladder away and never climb up to clean the gutters again. Not only does this save your home from damage and your yard, you'll be saving yourself from a fall off that ladder.

Half-Round Style Gutters
These style gutters are popular on historic homes or new custom homes. These gutters give your home a true classy look. Unlike traditional gutters, these gutters drain all of the water out, so there is no standing water – ever. This is great for us who live in Minnesota. You won't have a breeding place for all those pesky mosquitoes.

K-Style Gutters
With a crown mold look, these gutters frame off your roof. This gutter system is strong and less likely to bend in a storm or heavy fall. These gutters move larger amounts of water so there won't be any back-ups at all.
Custom Fit Gutter Installation Eagan MN
Having proper gutter systems on your home or commercial building is extremely important in keeping up the maintenance. In Minnesota we get a lot of rain, snow, and ice. That spells disaster if you don't have proper working gutter systems. You may not know that your gutters are rotting and allowing water to seep through the wood on your roof, eventually allowing for it to enter your home or commercial building. Next thing you know, you have extensive water damage issues that you now have to fix.
Be a smart homeowner and have your gutters checked, repaired and replaced. This is one decision you won't regret. Having quality gutter materials is also a crucial step in getting new gutters.  Minnesota Seamless Gutters knows that each home and building is different and we will walk you through what we think is best for your home. We custom fit the gutters for the perfect installation on your home. We don't want you to worry about leaks or debris build up this fall.
Contact us today and be worry free at 612.221.0362!