Why Are Rain Gutters Necessary?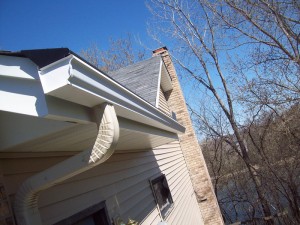 This year Minnesota has had more that our share of precipitation. It was a very snowy winter followed by a record setting, rain filled June. If your home is missing effective rain gutters, you may be in for a surprise. Water pooled around the foundation of a home can cause damage that is very costly to Ham Lake, MN homeowners. Professionally installed, seamless gutters and downspouts are a smart investment to protect against water damage. A seamless gutter system from Minnesota Leafless Gutters is a custom fit and affordable gutter solution for Diverting Water and Trouble Away from your home.
Costly Damage From Missing Or Insufficient Gutters
Do you see rainwater pouring off of your roof and pooling on the ground? This is not only an inconvenience, but it can be a very costly problem. Water that is allowed to soak into the soil around your home is sure to cause damage.
Structural damage to your Foundation
Water in the basement
Damage to Exterior Siding and to Interior Walls & Floors
Damaged Walkways and Driveways
Peeling or Chipping Paint
Stress to Landscaping around your home
Lower Home Value
Health Hazards from Mold caused by wet conditions
Rot and Damage to Fascia, Soffits and Shingles
Who Should Install My Gutters?
Having your gutter system installed correctly is very important. Gutters that are not properly installed can destroy the fascia and soffit area of your home by allowing ice and debris to back up and cause significant damage. Downspouts that are not attached and positioned properly will not effectively divert water away from the foundation, entryway, landscaping, driveway, or other areas needing protection.
An expert from Minnesota Leafless Gutters will inspect your home to determine the Best Gutter Materials, Size and Location for the ultimate protection. We offer a variety of gutter materials in more than 110 colors and finishes. Our High quality seamless rain gutters are fabricated on-site for a custom fit and coordinating look with your home's existing siding, soffit and fascia. Your new professionally installed, seamless gutters and downspouts will not only protect your home for many years, but will look beautiful while doing it. Matching Gutter Covers are a great option for virtually maintenance free protection.
Expert Seamless Gutter Fabrication And Installation
Minnesota Leafless Gutters are the Experts in Service and Seamless Gutter Fabrication and Installation. We offer affordable gutter solutions with unheard of Lifetime Transferable Warranty for labor and materials!
For a Free Estimate Call: 612-221-0362, Email: Tim@mnleaflessgutters.com, or Fill Out this Online Gutter Estimate Form