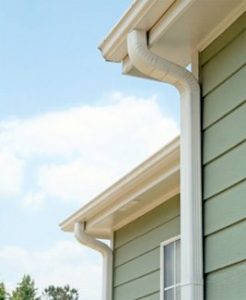 If you are coming to look at gutter installation or repair, it's likely that you have crossed over the bridge of being young, wild and free, and have now entered into full-fledged adulthood. Welcome, we are glad you are here. While some may find gutters to be the last thing they want to talk about, we are giddy and excited you are here. Gutters help tremendously with the function of your home. There are a million advantages to quality gutters and at Minnesota Leafless Gutters, we can help you find the perfect fit for you and your property.
The Popularity Of Gutters
While gutters were once used to serve a purely functional purpose, they are now, more than ever, becoming more aesthetically appealing. The aesthetics of gutters has come a long way. While you can never go wrong with your standard gutters, the materials, finishes and colors of gutters can now give your house the perfect look that you've been missing. At Minnesota Leafless Gutters, we offer a wide variety of colors and materials. Finding the right gutters for you could mean comparing material advantages/disadvantages functionally, pricing each material out and then choosing what would look best on your property. No matter what gutter system you choose, gutters have the ability to make functional look fashionable.
Gutter Options
At Minnesota Leafless Gutters, we typically offer three different gutter system materials: aluminum, steel and copper. Each comes with their share of advantages. Aluminum gutters are inexpensive, are offered in a variety of colors and can resist corrosion. Steel gutters are a great choice for northern states as they can bear a much heavier load than aluminum. They can come with a galvanized finish or have an enamel coating with a wide variety of different colors. Copper gutters, while more expensive, can last up to 50+ years and require very low maintenance. You cannot go wrong with any of these gutter choices here in Minnesota.
At Minnesota Leafless Gutters, our installation is impeccable. Each gutter is customized to meet your exact measurements and give you a flawless, functional finish. Afterall, the goal is to have your gutter system collect precipitation and move it away from your home, right? In order to do this, the right installation is a must. For more information about our gutter installation services here in Minnesota, give us a call today. Offering free estimates today, we can handle all of your gutter installation needs. Contact Minnesota Leafless Gutters today at (612) 221-0362 or send us an email at mnleaflessgutters@gmail.com.