Best Defense For Residential And Commercial Properties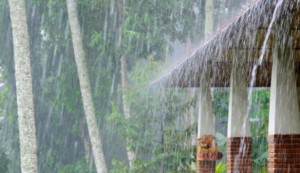 Seamless gutters and downspouts are one of best defenses to protect your Roseville, MN home or commercial building from water damage. Traditional style gutters are installed with seams that hold the pieces together. Over time and harsh Minnesota seasons, these seams will develop leaks.
Leaks in gutters and downspouts can cause significant damage to your Roseville, MN Residential or Commercial building. Water from faulty gutters can do very costly damage to your structure. Unfortunately, leaky or absent gutters cause a slow and steady erosion that is often not found until the Damage is Great.
Damage From Faulty Or Missing Gutters And Downspouts Include:
Stained and Rotted Siding
Rot around Windows and Doors
Damaged Paint
Wet Roseville MN Basements
Interior damage to Walls and Floors
Damage to Landscaping, Decks and Patios
Structural Damage to Roseville MN Foundations
Stress and damage to Walkways and Driveways
Protect Your Roseville Investment With Seamless Gutters
One of the best and most cost effective ways to protect your investment in Roseville MN, is to have Seamless Gutters professionally installed. Seamless gutters from Minnesota Leafless Gutters are fabricated on-site, allowing a perfect fit with no seams. No Seams means No Leaks.
We use the heaviest gage metal in the industry to endure our extreme Minnesota weather. A seamless gutter expert will help you to choose the proper Materials, Gutter Size, Style and Color to best protect and enhance your Roseville MN residential or commercial structure for many years to come.
Gutter Covers and Caps are used for commercial and residential gutter installation. They prevent leaves from building up and clogging your gutters. Gutter caps are also effective to help prevent ice dams in winter and for protecting homeowners from the dangers of cleaning hard to reach gutters.
Residential Gutter Installation in Roseville MN
Residential gutters, downspouts and backsplashes are available in several different materials and a Great Number of Colors. An expert from Minnesota Leafless Gutters will inspect your home to determine if there are any special problem areas for your Roseville residence. They are trained to assess any type of structure, be it a new home, older home or commercial property.
Your expert seamless gutter professional can help you to choose the correct materials and customized application to prevent future problems. A residential gutter installation expert will also help you to determine the correct size seamless gutters for your Roseville MN home.
Commercial Gutter Installation in Roseville MN
Seamless gutters and downspouts are the obvious choice for commercial Roseville MN properties. A seamless gutter professional will determine the best size, application and materials suited for your new or old commercial structure.
Professional commercial gutter installation is imperative to preserve and protect your Roseville MN commercial property. As a business owner, you understand the importance of hiring a highly skilled professional contractor who is Licensed, Bonded and Insured in the State of Minnesota. The Job Must Be Done Right.
Expert Residential and Commercial Gutter Installers
An expert from Minnesota Leafless Gutters has the experience to make sure the job is done right. We have been doing Commercial Gutter Installation and Residential Gutter Installation in Roseville MN for over 17 years.
We are so confident in our work that we offer a Lifetime Transferable Warranty for labor and materials!
Call Us Today for a Free Gutter Installation Estimate at 612-221-0362!
Email: Tim@mnleaflessgutters.com