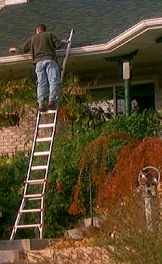 With winter fast approaching in your Shoreview, MN home, you might be exhausted with all the pre-winter prep you have to do. At some point, you are probably going to be looking for ways you can avoid some of the maintenance you have to do around the house. Whether your its getting harder to get up that ladder or you just have better things to do than gutter cleaning, it's time to look at the options available – Minnesota Leafless Gutters can help.
Gutter Options
Do you really want to clean those gutters yet again this year? Did you know that you can utilize rain gutter installation that will end your gutter cleaning nightmares? Not all forms of rain gutter installation are the same. It may be time for you to consider maintenance free gutter or leafless gutter systems that end your gutter cleaning days once and for all.
These maintenance free gutters keep your roof drained and free of built up moisture. These leafless gutter systems provide even better water flow than other gutters because they never become clogged with leaves.
What? Never get clogged with leaves? That's right. Leaves and debris never even enter the gutter system, so there is nothing to clean out. You may still have to clean the leaves out of your yard, but at least those won't involve a ladder or a walk on the roof.
Special Gutter Installation Considerations
Perhaps you're concerned that it's too late in the year to have your gutters replaced. Maybe you even need custom fitted gutters. Never fear, Minnesota Leafless Gutters can help. Our professional installers know how to get the job done right. They are very familiar with the systems and they have the equipment to easily create custom filled gutters for your home.
When you really want to get your Shoreview, MN home ready for winter and you have no desire to ever clean gutters again, give us a call at 612-221-0362 or drop us a line using our Contact Us form on our site at www.seamlessguttersmn.com. We'll make sure your new gutters are ready for winter this year and every year afterward so you have one less chore on your to-do list.