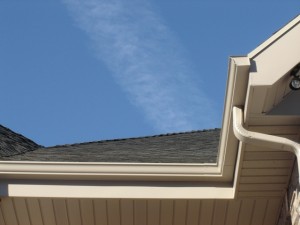 When the rain, snow, and hail falls in St. Paul, Minnesota, you can be sure that your gutters are going to need frequent cleaning and even replacing after years of weather wear if you don't have the right system installed for your home. At Minnesota Leafless Gutters, we know that each home requires a gdifferent gutter system depending on local weather, your ability and desire to clean your gutters, and how you want your home to look. All of these factors contribute to the selection of the best gutters for your home, and our team takes all of these into consideration when helping you choose from our seamless gutter systems.
Gutter Types St Paul MN
We believe in giving you all the information you need to make an informed decision about which gutter type is right for your home, and we're committed to satisfying your needs. We offer three materials in two distinctly different styles and more than 115 colors, all of which add a unique and necessary finishing touch to complement your home. Whether you choose our k-style or half round seamless gutters, you'll have the choice of aluminum, steel, and copper gutters, all of which come with their own host of benefits and disadvantages.
K-style Gutters
When choosing between k-style gutters and half round gutters, it's important to note both the aesthetic and structural distinctions of each. K-style gutters are now more popular than half round gutters, suiting the architectural designs of modern homes by adding a framed appearance to your home's exterior, and they are less likely to bend than half round gutters. However, unlike half round gutters that drain completely, there is always residual water in k-style gutters that may lead to corrosion and leaking depending on the material chosen, and because half round gutters drain completely, they require cleaning far less frequently than k-style gutters.
Half Round Gutters
Something to consider when choosing your gutter style is, of course, the cost, and you should be aware that half round gutters, though more affordable than they were in the past, are still more expensive than the more popular k-style gutters. However, if you're looking to add a more unique and efficient accent to your home, half rounds might be the right choice for you. Once you choose between our half round and k-style seamless gutters, you'll need to choose a material that best suits your needs, and we're here to help you figure out just what those needs are.
Galvanized or Aluminum Gutters?
When looking at materials, you should note the longevity of each as well as the costs and benefits. Aluminum gutters, for example, are the most popular material on the market, as they are inexpensive and can be made from recycled material. They can last for about 15 years if not damaged, but they're less sturdy and more prone to denting than steel or copper. Galvanized steel is stronger than aluminum, though it is prone to rusting, and stainless steel is even stronger and can last much longer than 15 years if tended to. However, steel is more expensive than aluminum, though still less so than copper, our third material. While copper is the most expensive option initially, it does not rust or corrode, and it last upwards of 50 years with less upkeep than steel or aluminum.
When you set out to choose the right gutter style and material for your St. Paul home, be sure to evaluate each option carefully and get all the facts before making a choice. At Minnesota Leafless Gutters, we want to help you choose the seamless gutter system that's right for you, so call us at 612-221-0362, or send an email to mnleaflessgutters@gmail.com to learn more.