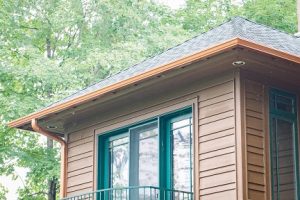 As with most of your home's components, your gutters can develop some issues over time. The most common problem, which many homeowners are familiar with, is gutter clogging. This occurs when leaves, pine needles and other loose debris start settling inside your gutters. Clogs and blockages affect your gutters' performance by inhibiting drainage, causing water to back up and eventually overflow. This can cause damage to your foundation and water can enter your basement. Here are a few of the many excellent reasons why a gutter protection system is an ideal investment for your home:
A gutter protection system is designed to prevent leaves, twigs, pine needles and other loose debris from building up inside your gutters. This allows water to flow smoothly through the system and out the downspout, after which it's diverted away to a place where it can't do any damage to your home or landscaping.
Reduced Costs Without Gutter Cleaning
Gutter cleaning can get expensive in the long run if you hire a pro for the task because it must be done over and over. While most homes only require gutter cleaning a few times a year, the overall costs of the job can really add up. With high-quality gutter protection, however, you can save more money because you don't have to worry about congestion as much. Your gutters remain clean and clog-free, allowing for smoother draining performance.
Greater Safety…No Ladders
A gutter protection system helps keep you safe by eliminating the need to climb up to the roof or perch on a tall ladder to clean out your gutters, which means there's zero risk of slipping or falling accidents that can lead to serious injuries.
Ice Dam Prevention
During colder months, accumulated water inside your gutters may freeze and contribute to ice dams. This could cause your gutters to sustain damage because of the ice's additional weight, and if overlooked may even lead to collapse. Installing gutter covers, however, can significantly reduce ice buildup. The fewer frozen areas, the less damage and the longer your gutters' lifespan.
More Attractive Home
Since a gutter protection system maintains, and even sometimes improves, the draining performance of your gutters, you won't have to worry as much about water damage to your home. This means both your interior and exterior walls will remain free from unsightly water streaks and stains. Basement flooding, foundation weakness and soil erosion will become a thing of the past. With gutter covers, maintaining a stronger, more attractive home is easier.
If you are in Woodbry, MN area and looking for a way to keep your gutter system clear of leaves and debris, our team at Minnesota Leafless Gutters has just the solution for you. It is time to invest in our low maintenance gutter covers for your new or existing gutter system. To learn more or to request a free gutter cover estimate, give us a call today at (612) 221-0362 or email mnleaflessgutters@gmail.com.