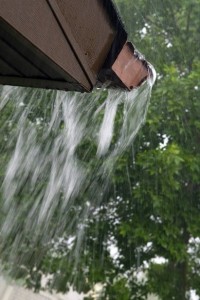 For most, the first word that comes to mind when discussing gutters is protection. The main purpose of a gutter system on your home is to protect your residence from excess water caused by rain, storms, and even snow or ice. Without gutters, the lifespan of a home would be drastically lower because of the rotting and mold issues that would develop. Gutters are so protective that they were even tested at one point on cars! Ensuring that you have a functional gutter system is very important. If you live in Minneapolis, MN, and have a hunch that your gutters may be damaged or that you may even need an entirely new system, Minnesota Leafless Gutters is here to help!
Gutter Issues to Look For
You may be wondering how to determine if your gutters are damaged. There are a few key things to look for, including:
Clogged Gutters

– If your gutters have debris built up ranging from leaves, pine cones, or branches, this extra weight can put a damper on the way your gutters perform. Not only does this cause water backup problems, but it can also negatively affect your roof due to the heavy strain.

Dents and Stains

– If your gutters have had heavy wear on them from the use of ladders, dents can commonly occur. Additionally, if your gutters have not been performing, rust stains can be formed from the overflow of water.

Rotting Boards on Your Home

– If you have any water damage impacting your home, there is a good chance your gutters are not working correctly. Mold and mildew on the walls of your home is another sign as well.
Our Commitment
As a local company, keeping the customers needs first is what has made us successful over the years. We follow the same process when dealing with our customers from start to finish. This includes:
Free Inspection

– Let our experienced team inspect your gutter system and provide you with a free consultation on what we find.

Offer Affordable Prices

– Our pricing is the best around in the gutter industry.

Wide Variety

– Whether you want copper, aluminum or steel gutters, we have just what you need. These are offered in various styles and colors as well.

Customization

– Our staff ensures that we provide your home with a custom fit gutter system to make sure that they fit your home perfectly.

On Time and Full Installation

– The agreed upon timetable that is decided at the beginning of your project will be met by our installation staff.
So, if you live in Minneapolis, MN and believe that your gutters need some professional attention, look no further than Minnesota Leafless Gutters. Give us a call today at (612) 221-0362 to set up a free estimate.