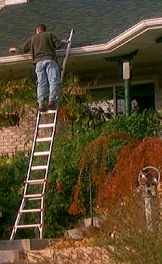 For most homeowners, cleaning the gutters falls at the bottom of the to-do list for household chores. Your neighbors will never notice the inside of your gutters, right? However, neglecting those gutters can expose your home to a great deal of potential damage. Your gutter system plays a critical role in maintaining the integrity of your home and roof. At Minnesota Leafless Gutters, your gutters are our top priority! If you are a St Paul homeowner, let our experts repair those long abandoned gutters!
How does Gutter Damage Occur?
Depending on the type of gutter you have, it should last anywhere from 20-50 years. There are variables that effect that lifetime including maintenance, care, and weather exposure. While our Minnesota weather can be beautiful, those harsh winters can take a toll on your gutter system. There are other common gutter problems that could leave you in need of repair.
Clogged gutters due to accumulation of leaves, twigs, and other organic debris.
Debris will accumulate water and become very heavy which could cause the gutters to come off the house.
Debris accumulation in gutters can cause an overflow of water resulting in damage to the roof, shingles, and wood.
Leaning ladders up against the gutters can create damages.
Pest infestation can wreak havoc on your gutter system.
Are you tired of getting up on that ladder? Minnesota Seamless Gutters can install gutter covers to your existing or new gutters. These will keep your gutter clear of debris and allow the water to run more efficiently to the down spout.
Seamless Gutter Repairs St Paul
Are you concerned that your gutters may have succumbed to damages from our Minnesota weather conditions? At Minnesota Leafless Gutters, we are happy to offer free gutter inspections and consultations. We will evaluate your gutters paying close attention to the downspouts. Perhaps we notice a hole in your gutter? We can patch any holes you may have to get those seamless gutters back to working order! Whether your gutter repair is big or small, we can handle it!
Don't let your gutters be the bane of your existence! Call the professionals at Minnesota Leafless Gutters to do the job for you! With our excellent customer service and years of professional experience, we guarantee you will be pleased with the results of your gutter repair! Call us at (612)221-0362 for a free consultation for your St. Paul home.