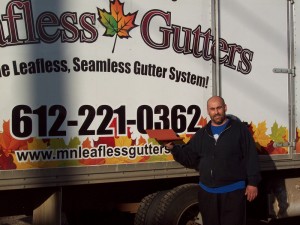 The weather in Minnesota is harsh to say the least. The winter brings snow, ice, frigid temperatures wind and storms and the fall, spring and summer months can be unpredictable as well. The exterior of your home can take quite a beating and over time, and areas like your gutters and siding may need to be repaired or replaced periodically to keep your home safe and free from water damage. Minnesota Leafless Gutters serves residential and commercial customers in the St. Paul and Woodbury, MN area, providing affordable, reliable and high quality gutter system replacement and repair.
Gutter Replacement Options, St. Paul And Woodbury, MN
Your gutters serve several important functions for your home or property. Gutters push water away from the foundation and the structure of your property, often preventing serious water damage and leaks. If your gutters need to be repaired or replaced, the team at Minnesota Leafless Gutters can help you determine the best possible gutter system for your home that will not be too costly but that will do the job you need it to. Popular gutter system options include:
● Seamless Gutters: The team at Minnesota Leafless Gutters understand that you do not want your new gutter system to detract from the overall appearance of your home. We offer seamless gutters that come in over 100 different colors and can be matched perfectly to the exterior of your home. Your gutters will no longer be an eyesore!
● Copper Rain Gutters: Copper is an excellent choice for use in a gutter system because copper does not rust or corrode, so you can bank on a new copper rain gutter system to last as long as 50 years. Seamless copper gutters do cost more at the time of installation but then do not require expensive upkeep like other gutter systems.
● Aluminum Rain Gutters: Aluminum gutters are extremely popular in northern climates as they can withstand the harsh weather, are affordable and can last up to 15 years.
● K-Style Gutters: K-style gutters are the gutters you see on most homes, they make up more than 80% of the gutter systems installed today. These gutter systems have a crown molding appearance that frame the roof and exterior walls of the home.
● Half-round Style Gutters: These gutters feature clean and simple lines, and complement textured roofing materials like shakes, tiles and slate. They are ideal for historic renovations and high-end custom homes. Half-round gutters are the most efficient gutter style and they are also least affected by ice and snow.
For more information about what replacement gutter system will work best for your property, call our team at 612-221-0362.