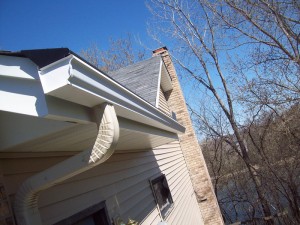 One of the most important parts when evaluating the exterior of your home is taking a good look at your gutters. The reason is because they protect the outside of your home from rain, ice, and snow. If you live in the St. Paul, MN area, then you know how harsh our winter weather can be. Faulty or broken gutters can cause lots of problems for your home because the excess liquid runoff from your roof will not be handled properly. Let our experienced gutter installers at Minnesota Leafless Gutters handle your gutter replacement needs.
Gutter Options:
Depending on the style and look you are going for, we offer various gutter replacement options such as:
Aluminum Gutters – One of our most popular options because they are cost effective and available in many different colors and finishes. Typically these types of gutters can last fifteen years or more. Disadvantage compared to other options is that aluminum gutters are more likely to dent, and do not do well with intense weather.
Copper Gutters – Since copper does not corrode or rust, these gutters can last fifty years or more. It is the highest quality metal available, and it does not require painting. Long lasting value at reasonable prices. Higher cost than our other options, but the performance and durability can not be beat.
Steel Gutters – Similar to aluminum, steel gutters last around fifteen years. A great gutter choice for the Minnesota region because it can handle larger amounts of weight from snow and ice accumulation. The main disadvantage of steel gutters is that they are prone to rust.
Once you have selected the type of gutter to invest in, we offer these in half-round or k-style. For older homes built before the 1960's half-round gutters are typically used. The k-style gutters are more commonly used for recently built homes.
Whether you are looking for a gutter replacement professional to replace your gutters, or you are looking for a team to partner with in a few years once you are ready, look no further than Minnesota Leafless Gutters. If you are in the St Paul, MN area, give us a call today at (612) 221-0362 to set up a free estimate.