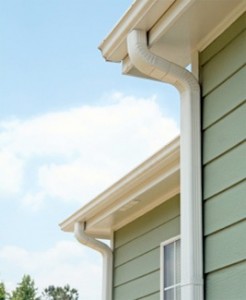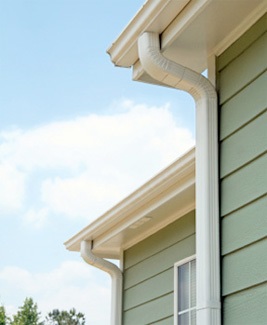 Are you sick of driving home only to set your focus on ugly gutters? It's understandable to want to take pride in the look of your property and even though gutters aren't a huge percentage of your homes construction, they certainly can stick out. If you'd rather your gutters blended with your home and its style – it may be time to find a qualified gutter installation contractor to remove your current gutters and replace them with something more pleasing to the eye and functional. Minnesota Leafless Gutters offers St. Paul, MN Gutter System Installation, Replacement and Repair Services. Our services can include everything from removal and disposal of your worn-out existing gutters, fascia, soffit and downspouts and the complete replacement of your entire gutter system.
Gutters are Cost-Effective
Gutters can save your siding of the dreaded water stains, also well maintained and installed gutters systems will enhance the longevity of your roof. Prevent basement flooding, minimize landscaping damages when heavy rainfall hits and provides a nice rain-free overhead when you're walking into or out of your home. Gutters are an investment in your home that should not be overlooked.
Gutter Material Options:
Gutters Styles
There's more to gutters than the material their made of, gutters can have one of two common styles: K style and half round style. Both give a different look to a home and both have their advantages. It is important to keep your specific structure in mind when considering the different possible aspects of gutters. Minnesota Seamless Gutters is happy to share our professional opinion as to what gutters we feel will work best for your home.
Leafless, Debris-less Gutter Option
Gutter cleaning is easily one of the most dreaded tasks a homeowner must deal with. The ladder, the disgusting mush of leaves, twigs and whatever else that happens to fall from the sky, or trees. To keep a regular gutter system working properly it should be cleaned – at least – in the spring and fall, as well as any time gutters are noticeably clogged. BUT our quality gutter installation company offers leafless gutters covers! There is seriously no need for gutter cleaning at all after we install our quality gutters complete with leafless gutter guards. Homeownership just got that much simpler. And if you're not ready for completely new gutters we can fit gutter covers over your existing gutters. You will absolutely enjoy the time you're not spending elbows deep in your gutters.
Contact Minnesota Leafless Gutters today at 612.221.0362 for a FREE estimate.