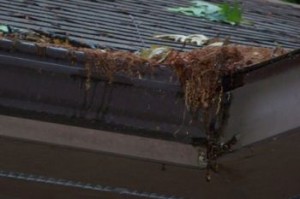 Tired of old looking, worn out gutters ruining the attractiveness of your Woodbury MN home? Worried about potential water damage? Minnesota springtime rains and winter snows can play havoc with your gutters. Minnesota Leafless Gutters is a professional gutter installation company that has the perfect gutter replacement solution for you.
Why Replace Gutters?
Old broken or rusted gutters are not only an eyesore, they don't do the job they were intended to do – keeping water away from your foundation to help prevent leaking or structural damage. Broken or worn out gutters also have the potential to cause water to ruin your fascia or cause roof damage. Peeling exteriors caused from water damage also means more time on a ladder painting or replacing damaged areas of your home. That's time better spent doing the things you want to do, rather than things you have to do because of your old gutters!
Types of Replacement Gutters
Homeowners today have tons of options when it comes to replacement gutters. Minnesota Leafless Gutters can match your siding and fascia colors, so your gutter replacements are not only efficient, they can add a fashion statement as well.
There are two main styles, half-round and k-style. Half-round is a good choice for our region because it is extremely efficient in ice and snow. K-style replacement gutters are popular because of their stylish looks, and they can carry away more water than half-round gutters during those spring downpours.
You can choose aluminum, copper, or steel as your gutter material. Aluminum is the most affordable and comes in many colors. Steel gutters are stronger than aluminum and are great in Minnesota conditions. Copper costs more, but lasts more than three times longer than steel or aluminum.
Protect Your Home and Keep It Looking Great
Our seamless replacement gutters will add value and curb appeal to your home. Get rid of those old gutters and replace them with our quality gutters to eliminate water damage threats to your foundation, siding, and roofing, as well as channeling water away from walkways so you stay dry.
To get a free estimate for your replacement gutter needs, email us at www.seamlessguttersmn.com/contact-us, or call us today at 612-221-0362.