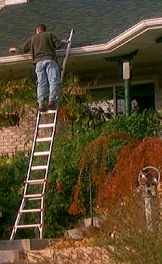 Don't Fall for Fall!
We are sure that many of you are not looking forward to the upcoming fall and winter seasons. With the harsh fall and winter months in Minneapolis, MN comes heavy rains and blanketing snowstorms. Many people hate the upkeep that is needed with gutters and all the dragging out of the ladders and physically cleaning out wet, slimy leaves and debris. It can all be a real pain that can be easy to avoid if we take some pre-emptive strikes at our gutters.  With a no-maintenance gutter system from Minnesota Leafless Gutters, you can forget about dealing with cleaning out your gutters each season and focus on enjoying your home.
Listed here are just a few solutions that can help to make fall, winter and the upcoming spring much easier and more enjoyable for you in Minneapolis MN:
Materials Make the Difference
You can purchase gutters made from a plethora of materials ranging from the classy Copper Gutters, which will make your home look rich and distinguished to Steel Gutters which are a very popular material, quite durable and will give you years of quality use. You might also find that Aluminum Gutters are perfect for the look and overall feel that you want to achieve for your home.
The Best Gutter Solution
If you are like most people you try to save money where you can. However when it comes to home improvement, the cheapest solution is not always the best solution. Keep in mind that no two homes are the same and your gutter needs will likely be quite different from your neighbors. That is why custom fit gutters are the best and only real option. Once a professional team has installed these gutters you won't have to worry with time-consuming gutter maintenance for many years.
Maintenance Free Gutter Options
When you were growing up I bet you can remember horrors like leaves clogging the gutters and someone in the family having to climb to the second story on a ladder to remove leaves. Or even worse, the gutters filled up, froze over and then the whole system pulled off the house. Luckily there are many options today that are both worry and maintenance free. You might even be more than pleasantly surprised at how affordable these solutions can be for your needs.
Contact the Seamless Gutters Professionals in Minnesota
If seamless gutter systems, gutter covers, and maintenance free gutter system sounds like something that you may want for your home, it is a perfect time to make that call for a free estimate from Minnesota Leafless Gutters at 612-221-0362.