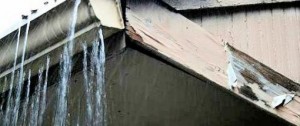 Minnesota's weather can be harsh on every aspect of your home, including gutters, that's why the professionals of Minnesota Leafless Gutters offers Ramsey, MN a complete variety of rain gutter services. Our experts are trained in gutter repair, gutter replacement, gutter installation and we even offer a variety of gutter covers that can be installed to your new or existing gutters. To top it all off we offer a lifetime transferable warranty for all labor and materials.
Gutter Repair
Whether your entire gutter system was installed by a different company or we installed your gutters and downspouts, our company offers repairs for damaged gutters when something unforeseen happens, like a tree falling and landing on your home. It takes a professional to know the exact extent of the damage and how to repair it properly. We install seamless gutters so with our repairs, most of the time, an entire new gutter section is replaced, to ensure you keep your seam-free appearance.
Gutter Replacement
Sometimes there are just too many little cracks, rust patches, clogs, unsecured areas or even improperly sized gutters existing on a home making repairs not a reasonable option. Our company won't waist your money by preforming repairs that will solve one problem, just to create another. If we repair the integrity of one section of the gutter system, it will leave the other worn down sections vulnerable. If our team feels that a repair will not suffice, we will communicate that to you and suggest a better overall option, gutter replacement.
When our company removes your climate battered, existing gutters we have specialized tools and techniques that guarantee your home will not be damaged. It will actually raise in value, once we are finished with the new gutter installation. You will also see a major difference in appearance and your home will not be affected by rain fall in the ways it was previously.
Gutter and Downspout Installation
The rain gutter and downspout systems we professionally install have a variety of different color, material and style options. The gutters you choose will be fit, on the at the location, for a superior, custom look and function that exceeds stock gutters and many other gutter installation companies. We are dedicated to providing protection for homes all across the Ramsey and the Minnesota area.
Gutter Cover Installation
Maybe you already have gutters that are in good working condition and your sick of getting on the ladder in the spring, during the summer and in the fall to clear and clean your gutters of branches, leaves, twigs and other debris that can harm your gutters. Or your researching all your options for your new gutter installation. Minnesota Seamless Gutters has your solution for a maintenance free gutter system! Gutter covers protect your gutters, so your gutter system can protect your home properly and without constant maintenance from you, the homeowner.
If you are interested in any of the gutter services we provide, including repair, replacement, installation or you would like to add gutter covers call Minnesota Leafless Gutters at 612-221-0362 today!