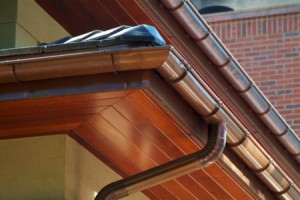 Thanks to new and improved gutter products and materials currently on the market, homeowners have a variety of different options to choose from, including aluminum, copper and steel. Every house is different, so it is important to choose gutters that best fit your home's exterior.
Gutter Types and Materials
Aluminum — Aluminum is the most popular gutter commonly found on the market, as it is typically inexpensive, durable, and easy to work with. Different from steel, aluminum is rust-resistant, can be painted and is offered in a variety of colors. Aluminum gutters are generally offered in different thicknesses and gauges such as .032, .027 and lighter. The .032 size is highly recommended in northern regions where heavy snow is likely.
Copper — Copper gutters are sturdy, long lasting, and are typically reserved for classic restorations. Copper brings a certain aesthetic appeal to a home's appearance, attracting property owners looking for a unique and customized style. With regular care and maintenance, copper gutters can last 50+ years.
Steel — Steel gutter systems are generally galvanized, although stainless steel options are available. Unfortunately, galvanized steel gutters will rust over time–approximately after 20 to 25 years. However, steel is extremely tough and reliable, which makes it a well-known pick in areas that have extreme weather, heavy rain falls, and snow. Steel is tougher than aluminum and does not contract as much. Steel gutters can also come painted.
If you have questions about your gutters, or which type of gutter system is best for your home, call Minnesota Leafless Gutters today at 612-221-0362!