Maintenance Free Gutter Solution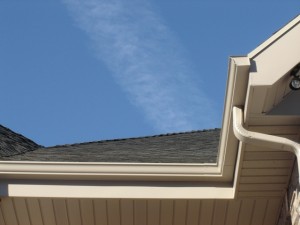 Gutters are an important line of defense for your Minneapolis, MN home. They are instrumental in safely directing water away from the foundation and avoiding damages. Cleaning and maintaining gutters is no fun and often a dangerous job. This is where Maintenance Free, seamless gutters with high quality, gutter covers are a great solution. Minnesota Leafless Gutters provides Minneapolis, MN with the most durable and highest quality seamless gutter and accessory installation services. Chances are, if your looking into replacing, adding or installing new gutters you've got questions, well our gutter experts have the answers!
Questions and Answers on Seamless Gutters:
Q. What Are Leafless Gutters?
Leafless gutters are a High Quality Seamless gutter system that are fabricated on-site for an exact custom fit for your specific property.
They are made of a continuous length of gutter material that do NOT have joints or gaps that will eventually leak and cause problems.
Leafless gutters have Gutter Covers to keep from clogging.
A Hassle Free solution for water mitigation.
Q. What is the Difference Between Seamless Gutters and Traditional Gutters?
Traditional Gutters are made of pieces of gutter material that come in lengths of up to 10 feet.
Traditional gutters have joints and gaps that are connected together with sealant.
Seams and joints in traditional gutters can develop leaks due to the stress of water, wind, ice, snow, leaves and other debris.
Seamless Gutters are a higher quality gutter solution that are not as prone to leaks and other problems associated with traditional gutters.
Q. Why do I need Maintenance Free, Seamless Gutters for My Home?
So that You Never Have To Climb A Ladder To Clean Your Gutters.
So you never have to see little Trees Growing in your gutters.
Professionally Installed, seamless gutters provide the Best protection from water damage, for your home.
They direct water away from and around your roof-line, and down the downspouts, without clogging or leaking around gaps and seams.
They are made of the Highest Quality Materials that add Value and Curb Appeal to your home.
Q. What are Gutter Covers?
Leaf Proof Gutter Guards to Add Value and Reduce Hassle.
Gutter Covers are a great addition to seamless gutters.
We professionally install gutter covers to provide the best protection from clogs due to Leaves, Acorns, Twigs, Helicopter Seeds, Birds Nests, Debris, Bugs and other Critters.
Q. What Colors are available in Leafless Gutters?
Seamless gutters from Minnesota Leafless Gutters are available in 115 Different Colors, also a variety of different styles, sizes and materials.
We are sure to have the right color to enhance the look of your home and can match your Siding, Fascia and Soffit.
Q. What are Seamless Gutters Made of?
Minnesota Leafless Gutters installs seamless gutters made from the highest quality material.
We professionally fabricate and install seamless gutters made of Aluminum, Steel and Copper.
We NEVER install Vinyl gutters, due to their inability to handle our harsh Minnesota weather conditions.
Q. Who should Install Seamless Gutters in Minneapolis?
Minnesota Leafless Gutters is your Best Choice for Maintenance Free, Hassle Free, Seamless Gutter Solutions.
We fabricate gutters on-site for a custom fit every time.
Highly experienced installers from Minnesota Leafless Gutters, treat your home with Care and Respect.
We install only the Highest Quality Gutters for virtually Maintenance Free, No Hassle, Protection from water damage to your home.
Our gutters are Beautiful and Affordable.
Minnesota Leafless Gutters offers a Lifetime Transferable Warranty for labor and materials!
Call Minnesota Leafless Gutters Today, for a Free Estimate at 612-221-0362.
Email: Tim@mnleaflessgutters.com