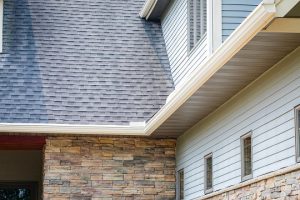 A gutter system is an important element of any Minnesota home. Gutters prevent in-home water damage by collecting water falling close to a home's foundation and directing it away. If you need your gutters replaced, repaired, or you're looking to add gutters to your home or garage, Minnesota Leafless Gutters is your professional gutter system solution. We serve the greater St Paul area and provide quality seamless gutters, with leafless gutter guard options.
Minnesota Leafless Gutters has quality seamless gutters that are designed to give your home the level of protection it needs for years to come. All our gutter systems are custom fit to your home on-site and deliver what you'd expect from a custom-fit product. Don't make the mistake of overlooking the gutters on your residential property, it could be a costly one.
Seamless gutters are made from one constant sheet of specifically designed metal, whether it be aluminum, steel, or copper, which eliminates warping and clogs. All things that have been relentless issues for gutters with seams. Seamless gutters don't just function better, they look better too. Instead of interrupting the eye with chunky seams, the gutter systems we install are smooth all the way around. No seams equal no leaks which is a great feature when you're walking below your gutter system and it's raining. Also, when there is nowhere for water to escape there is no water dripping close to your foundation. Seamless gutters keep you and your foundation dryer.
Leafless Gutter Protection
While your gutters are protecting your home's foundation, protect your gutters and your time by adding gutter covers to your newly installed or existing gutter system. Our gutter guards are placed over the top of the system to prevent leaves, sticks and other debris from entering and creating clogs and the need for you to take your time, get on the ladder and clean your gutters multiple times come spring, summer, and fall.
St Paul Minnesota Gutter Installation Company
The professional crew at Minnesota Leafless Gutters has been working as an essential business throughout the pandemic. We understand the stress of having people working at your home right now, so we offer contact-free service. We can communicate virtually from scheduling the free assessment, completing the free estimate, and doing gutter removal and installation. If you live in the St. Paul, MN area and would like to learn more about the seamless gutter options we offer, give us a call today at (612) 221-0362.