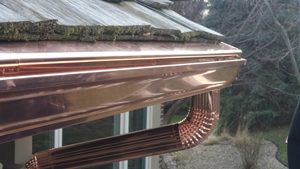 When you're shopping for gutters, you likely are mostly thinking about price and little else. The reality though is the gutter company that you choose is important to ensure that your gutters are properly installed and will last for many years to come. Gutter installation contractors can cut corners by using inferior materials that may be difficult for the novice to notice. At Minnesota Leafless Gutters, we've been installing high quality gutters in the Twin Cities Metro area for decades and would welcome the chance to provide you with a free estimate on any type of gutter installation project.
Gutter Warranty from Minnesota Leafless Gutters
Aside from our vast experience when it comes to installing gutters in the Twin Cities area, we also offer a warranty that we feel should put most of our customers at ease related to their gutter project. It may be hard to believe, but we offer a LIFETIME TRANSFERABLE WARRANTY on both labor and materials for any gutter installation project that we complete. This means that not only will your gutters last for as long as you're in your home, but they'll still be warrantied even when and if you decide to sell your home in the future. Our gutter installation process features work completed by master craftsmen who use the latest in high quality materials.
If you do decide to sell your home, being able to transfer a gutter warranty could be something that was the difference between a potential buyer signing on the dotted line or deciding to look elsewhere for their next home. At Minnesota Leafless Gutters, we're always here for you as well as prospective homeowners who may purchase your home in the future. We're not going anywhere and we're looking forward to serving the area for generations to come.
Importance of Investing in Seamless Gutters
If it's been several decades since you replaced your gutters, you likely have an older style of gutters with seams. These seams are typically where gutters begin to fail. At Minnesota Leafless Gutters, we only install seamless gutters to ensure you'll never have problems with leaks and other issues that can lead to major issues in and around your home.
Gutter Warranty Included With Install
If you're interested in a free estimate for any type of gutter installation, or you're just looking for more information about our unheard of lifetime gutter warranty, feel free to give us a call today at 612-221-0362. We look forward to hearing from you soon.