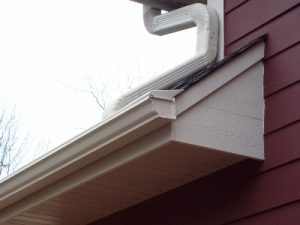 There is an adage in business and advertising that states that the most successful companies do not just sell a good product, they also sell the security that comes from buying their product.  When it comes to our major investments, what is it that allows us to feel good about taking the risks associated with making those investments in the first place?  Security.  Our homes are at or near the top of our list of investments.  Warranties provide us with a sense of security about our homes and Minnesota Leafless Gutters offers a warranty on our products that is designed to help you feel fully confident in the investment you have make in our gutter systems. In fact, our warranty is transferable to the next homeowner.
Gutters Protect the Exterior of your Home
The warranty on our leafless gutters not only covers labor and materials but it is transferable.  That means that if you ever decide to sell your house, the warranty on the gutter system installed by Minnesota Leafless Gutters transfers to the new owner.  We are able to offer such a warranty because of the confidence we have in the quality of the product and also in the skill with which the product is installed.  We use high quality materials, which is an important starting point in being able to offer a product with a transferable warranty.  But high-quality materials do not count for much if they are not installed properly.
Gutter Warranty
We train our staff to consider each job a unique project which is a sign of respect for the fact that your home is your most important investment.  The professionalism of our staff means that we create a leafless gutter system that is tailored to your home—its contours, its style, and its lines.  Our team's experience and expertise will ensure that your leafless gutter system not only performs its superior functions but also complements the aesthetic quality that makes your home unique.
Seamless Gutter Installation
The superior functions of the leafless gutter systems we install provide functional security.  Our leafless gutter systems prevent debris from building up in your gutters thus reducing, if not eliminating, the possibility of ice dams forming in winter and water backing up and leaking into the interior of your home.  If you have any questions about our warranty or any aspect of leafless gutter installation, please contact us.  You can do so by calling us at (612) 221-0362, or by sending an email to mnleaflessgutters@gmail.com