Gutters & Downspouts | Gutter Covers MN
Gutter Styles Available Today
Half-Round or K-Style
Other styles of gutters have been used over the many years of home and building construction, but today the most common are the half-round gutters and the K-style gutters.  The half-round are more common in older construction, and since the 1960's the K-style are the most common.  Both have advantages and disadvantages.  Newer fabrication technologies have made both affordable. Minnesota Leafless Gutters customizes both seamless gutter styles on site to perfectly fit your home or building.
Half-round Seamless Gutters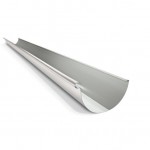 Half round gutters were commonly used prior to the 1960's.  The clean simple lines of the half-round gutter tend to make it a pleasant compliment to more textured roofing materials like shakes, tiles and slate.  It is for this reason that half-round gutters have remained the preferred style of choice for historic renovations and high-end custom homes.  Half-round gutters are the most efficient gutter style and they are also least effected by ice and snow. Half-round gutters have often been made from copper.  The high cost of both the copper material and the labor intensive installation of the past—soldering of each joint—has meant that half-round gutters were financially out of reach for most home owners.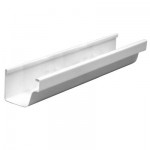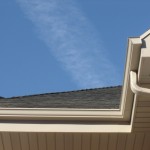 K-Style Gutters came into popularity in the 1960's with the advent of industrial metal fabrication and seamless gutter technology.  K-style gutters now account for over 80% of the gutters installed today.  K-style gutters have a crown molding appearance that gives a framed look to the roof and exterior walls of the home, providing a better fitted appearance for today's architectural trends.