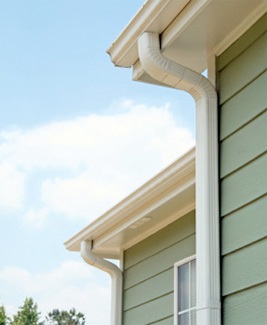 Looking for experts in all things gutter related in St. Paul, MN? At Minnesota Leafless Gutters, we've got you covered! We are your local gutter, gutter guard and fascia installer that handles every job with honesty, integrity and precision from start to finish. Serving St. Paul, MN for over 17 years, we are your local experts that handle gutters, gutter guards, fascia installation and everything in between.
Gutter Installation
At Minnesota Leafless Gutters, we offer three different materials that are suited for all types of properties in St. Paul, MN. Our gutter materials come in aluminum, steel and copper. Depending on your style, size, and budget, we can help you decide which gutter material is perfect for you. With both aluminum and steel gutters, we can find the right color to match your home or business. Our goal is to blend your new gutters so that they look beautiful while also installing them well so that they function properly. Once you pick your material, we offer two popular styles of gutters, which are Half-Round and K-Style. Both styles have their advantages and offer a variety of functionality for your property.
Gutter Guards
Living in St. Paul, MN, we strongly encourage gutter guards for your home. Gutter guards are a great addition that help keep your gutters clear of debris, allowing the water to smoothly run down the spout. This helps to prevent you from getting up on that ladder every fall and spring and also keeps your gutters lasting longer. Our gutter guard installation can be customized to your existing gutters or tailored to fit your new gutters during installation.
Fascia Installation
Fascia on a roof plays an important role for every home in St. Paul, MN. It acts as a layer in between the edge of the roof and the outdoors and is meant to protect against water damage that can occur during wet weather conditions. It also looks aesthetically pleasing to the eyes. During fascia installation, our team carefully installs it so that it serves its functional purpose while also giving your home aesthetic curb appeal. We can match your existing fascia if we are just replacing a portion of it so that nothing looks out of place.
Curious to learn more about gutters, gutter guards and fascia installation in St. Paul, MN? Give our experienced and trusted team at Minnesota Leafless Gutters a call today at 612-221-0362