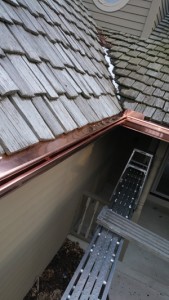 If you're in the market for new gutters, whether you're replacing your old gutters or buying them for the first time, there are some things you should know about gutters before buying them that you likely don't. At Minnesota Leafless Gutters, we want to be sure that you have all the facts before you choose the gutters for your Highland Park, Minnesota home so that you make the best choice for you in terms of cost, longevity, and aesthetic. As gutter installation professionals, we know everything there is to know about gutters, and we're here to help you get exactly the right seamless gutter system for you and your home.
Although your eyes probably aren't particularly drawn to the gutters on a home, you've likely noticed at one point or another that gutters can be fairly varied. Between color choices, materials, and even shapes, gutters can be virtually as unique as you'd like them, adding to your home's character rather than just being an inconvenient necessity. The question is, though, which seamless gutter system should you choose? While we could make suggestions to you all day, we feel that, as a homeowner, you should know what you're getting yourself into, choosing gutters that best suit you, your needs, and your budget.c
The first thing to consider when choosing your gutter system is the shape, or "style." At Minnesota Leafless Gutters, we offer two seamless gutter styles, half-round and k-style. There are several differences between the two, but the most important is the difference in maintenance. Half-round gutters, because of their shape, allow water to move much more freely than k-style gutters, and therefore half-round gutters do not need to be cleaned as often. For Minnesota homeowners, this means that if you aren't cleaning your gutters regularly, you may end up with damaged or leaking k-style gutters if you don't maintain them properly. However, half-round gutters are less sturdy and are therefore more likely to bend or dent than k-style gutters.
Following your choice of half-round or k-style gutters, you'll need to choose between three very different materials: aluminum, steel, and copper. Although you may have heard of your neighbors installing vinyl gutters at a very low cost, these are highly ineffective and prone to damage in cold and wet Minnesota climates, so we've made it our policy not to install vinyl gutters.
Instead, you might consider aluminum or steel, which can last about 15 years if properly maintained. We also install stainless steel gutters, which last even longer than regular steel or aluminum. Finally, if you're looking for the longest-lasting gutters you can find, our seamless copper gutters are perfect for your home. They won't rust or corrode, and although they're initially more expensive, they'll last upwards of 50 years.
When you choose Minnesota Leafless Gutters, you can be sure you're getting the highest quality seamless gutters for your Highland Park, Minnesota home. With us, you'll know that we're here to help you make the best decision for you, and at the end of the day, your house will be home to gutters that add character, not just functionality. Call us today at 612-221-0362 to schedule an appointment, or send an email to mnleaflessgutters@gmail.com.