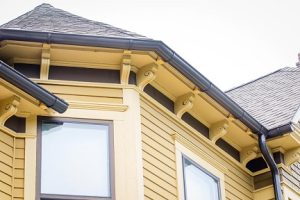 The type of weather that Minnesotans deal with every year can wreak havoc on gutters that are not able to withstand the harsh environment. The amount of snow and ice accumulation that stresses roof tops and gutter systems annually is immense. If you live in the state and are investing in a new gutter system, you want to ensure that your investment is protected and will last you many years to come. The professionals at Minnesota Leafless Gutters have several options that will serve you and your home well. No one installs a sturdier gutter system than Minnesota Leafless Gutters!
Aluminum Gutters: If the price tag of your new gutter system is a top priority for you, aluminum gutters may just be what you need. Aluminum is made from post-consumer and recycled materials, which makes it an affordable option for many. When maintained, aluminum gutters can serve for fifteen or more years. Aluminum gutters are available in a wide range of finishes and colors to help match the overall look of your home.
Copper Gutters: If long-lasting options are more important than the cost, look no further than our top-notch copper gutter options (lasting an estimated fifty-plus years!). This is the best material that can be used in gutters because it is extremely durable and long lasting. Copper gutters do not need to be painted and require minimal maintenance. In fact, some individuals think that copper gutters get more beautiful as they age.
Steel Gutters: Another great gutter material to use for the Minnesota region is steel, as they hold up very well in environments where snow and ice accumulation is common. They are built to withstand the excess weight of snow buildup, due to the thickness of the material. These gutters are estimated to last approximately fifteen years.
Choosing the right material for your new gutters isn't a decision that you should take lightly. Think about what you want in your gutters, how much you want to invest, and how long you want them around. The experienced team of gutter experts at Minnesota Leafless Gutters can help you make the right decision for your home. To request a free gutter estimate or to learn more about aluminum, copper or steel gutter systems that are built "Minnesota tough," contact our team at (612) 221-0362 or email mnleaflessgutters@gmail.com.