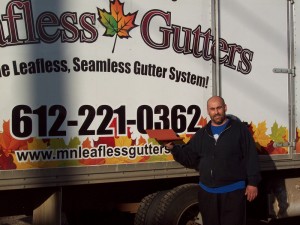 The recent summer storms have brought significant rainfall to the area. Without properly functioning gutters, water can collect near the foundation of your home, eventually causing water damage and structural issues. Gutters may not seem important when it is dry out, but they perform a critical function for your home during rainy weather, or in the winter when snow melts. Minnesota Leafless Gutters of Woodbury, MN, offers a wide variety of gutters that are affordable and can be customized to your home.
Types Of Gutter Systems
Gutters direct water away from your home to prevent water damage during and after rain and snow storms. Traditional gutter systems function well but need to be cleaned periodically by homeowners. This often involves climbing a ladder and pulling out leaves, dirt and other debris that have collected in the gutters so water can get through.
New technology has completely changed the ease in which gutters can be cleaned. Leafless gutters do not allow leaves or other debris inside the gutters at all, so they cannot get clogged. No more climbing up on a ladder and digging out debris from your gutters. Seamless gutters are revolutionary in that they do not leak like other gutter systems and can be added to your home without compromising the look of your home. Minnesota Leafless Gutters also offers many colors and designs to complement your home.
Importance Of Gutter Materials
Minnesota Leafless Gutters also uses only the highest quality materials for their gutter systems. Instead of using vinyl for the gutters, we install aluminum gutters, copper gutters and steel gutters. These materials will stand the test of time and work particularly well in the cold temperatures that Minnesota is famous for.
Minnesota Leafless Gutters understands the harsh Minnesota climate and has worked to offer premium gutter products that can withstand the cold temperatures and snow in the winter as well as the warm temperatures and rain in the summer months. Our team can install these products at affordable prices for our customers.
Minnesota Leafless Gutters
If you need to replace your gutters, if your home never had gutters, or if you are ready to have gutters that you do not have to climb a ladder to clean, call Minnesota Leafless Gutters this season at 612-221-0362. We are focused on customer service, communication, high quality products and affordable prices. Do not wait until water damage impacts your home — install new gutters that are perfect for your home today.