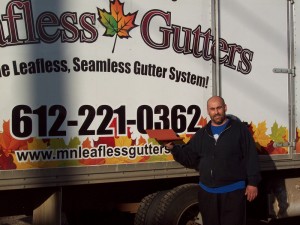 It's unbe"leaf"able the amount of work your gutters do for your home and yard. Gutters help redirect the falling rain and debris so that your yard, your home, its foundation, basement, and many other related parts don't suffer major damage that would be costly to repair.  If you're looking for peace of mind when it comes to maintaining your Woodbury MN home, there's nothing quite like knowing that all your gutters are in top shape and performing the work they are intended to do for your home. If you're in need of any type of gutter services, don't hesitate to reach out to Minnesota Leafless Gutters today.
Don't Put Your Gutters In The Gutter
Because they're not exactly located at eye-level, gutters tend to make their way to the bottom of most home maintenance lists until we realize that they're not working properly.
For all the work that gutters do, and for all the protection that gutters provide a home or building, they really don't get enough attention.  When your home is in need of gutter and downspout replacements, Minnesota Leafless Gutters is the expert gutter professional to call for a customized gutter system for your home or building.
Woodbury MN Leafless Gutters
It really makes no difference what season or time of the year it is, the leaves and debris always find their way into gutters. It takes all the collected debris very little time to clog the downspouts and start trouble. If you're tired of constantly cleaning your gutters, or if you notice leaks in your Woodbury MN gutter system, then it's time for a free gutter inspection and consultation by the experts at Minnesota Leafless Gutters.
Types Of Gutters Woodbury MN Homeowners
Minnesota Seamless Gutters has been offering gutter solutions for every type of home and building for over 17 years. With well over 100 different colors from which to choose, and a wide variety of materials, your new custom gutter system in Woodbury MN will perfectly suit your home or building.  Just a sampling of the types of leafless gutters we can install for your new home or replace for you existing home are:
Seamless Gutters
Copper Gutters
Steel Gutters
Aluminum Gutters
K-Style Gutters
Half-Round Gutters
All our gutter systems are professionally installed once we've determined your home's exact needs during our careful inspection and consultation. But the best part is that you'll be finished with climbing a ladder to scoop out leaves and debris forever thanks to our leafless gutter systems!
Minnesota Leafless Gutters In Woodbury MN
We invite you to reach out to us at 612-221-0362 to schedule a free gutter inspection. We offer competitive pricing, great and friendly customer service, and top quality gutters for your Woodbury home!