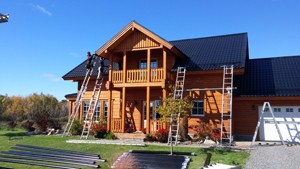 Has a hail storm recently come through your neighborhood and wreaked havoc on your gutter system? If so, don't ignore this damage. Hail damage is covered by your homeowner's insurance policy, so what are you waiting on? When it comes to finding a reliable, experienced and affordable gutter replacement company to handle replacing your hail damaged gutters, look no further than our top notch team at Minnesota Leafless Gutters.
Gutter Replacement Process
At Minnesota Leafless Gutters, we're in the business of helping our clients as best we can. Dealing with hail damage is a stressful situation, so the last thing that we want you to have to worry about is the hail damaged gutter replacement process. By choosing our team for your gutter replacement needs after a hailstorm, you'll gain access to a wide range of gutter finishes, colors and materials. The best thing about it is that your new gutter system will fit seamlessly to your home. By customizing this installation process, you'll get the most out of your new gutter system and your home will be protected better than ever before. Last, but not least, you can rest assured that your gutter replacement project will be completed on time and your property will be left presentable and clean! Before you know it, your new gutter installation will be complete and you'll be able to put the bad memories of this hail storm away for good!
Replacement Gutter Styles & Options
When choosing your next gutter system after a hailstorm, it is important to utilize materials that are built to last. At Minnesota Leafless Gutters, we utilize the heaviest gauge sheet metal on the market so that you get the most out of your new gutter system. Choose between our copper, steel, or aluminum gutters, in either half-round or k-style, with or without our leafless gutter covers, to replace your hail damaged gutters. Not sure which material to invest in? Sit down with our gutter installation team and we'll break down the benefits and drawbacks of each material to help you come up with a sound decision based on your preferences.
Don't let the aftermath of a hail storm cause more damage than it already has. If your gutter system was recently damaged in a hail storm, look no further than Minnesota Leafless Gutters to handle replacing your gutters. We'll provide you with a seamless gutter installation that will help keep your home protected for decades to come. To learn more about our hail damaged gutter replacement services, give us a call today at (612) 221-0362