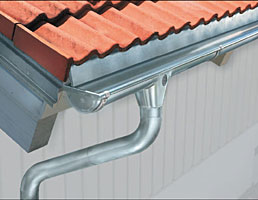 Half-round gutters are most frequently used on upscale homes or historic homes. Half round gutter installation in Minneapolis MN, is suitable for homes with canted fascia or visible rafter tails with open eaves. While half round gutter options may cost a little extra, they are elegant when fitted professionally on the proper type of home. Professional gutter installers like Minnesota Leafless Gutters can put this system in place for you quickly and efficiently.
The Beauty of Copper Half Round
Looking for durability? Does the idea of never having to install another gutter system appeal to you?  Choose a copper half round gutter installation. While cheaper aluminum or steel gutters can take away from the appearance of a home, copper actually enhances the look of the home and manages the water safely, dispersing it where you want it.
Galvanized Half Round Gutters
For Minneapolis MN residents who want to have premium looking gutters without spending the money on copper, galvanized half round gutters may be an appropriate choice. Each of these galvanized half round gutters are hand soldered at the joins and steams. This makes the seam sturdy and not prone to leak.
K-Style Gutter
K-Style gutter styles became popular in the 1960's with the arrival of metal construction and seamless gutter technology. K-style gutters account for most of the gutters fitted today. K-style gutters come with a stylish crown molding look that frames the roof and outer walls of the home.
About Half Round Gutter Installation in Minneapolis MN
Homeowners have been using half round gutter systems for decades. This gutter is a logical choice if you want to enjoy the look of a historical home or if you want some old world charm.
Half round copper rain gutters come in different sizes; the most common is 6-inches in diameter.
Half round aluminum gutters come in prefinished colors and give a home a classic look. Round downspouts are often used with aluminum gutters.
Half round galvanized gutters are ideal for homeowners who want an unfinished metal look. Round downspouts are also used with this style of inexpensive half gutter.
Half round copper gutters are definitely a wanted enhancement to any home in Minnesota. These ornamental gutter systems are not the outdated rectangular gutters seen on many Minneapolis, MN homes. Half round copper gutters have a round shape that provides your home the appeal of a bygone era, when drainages delivered added appeal to your house rather than just an ordinary add-on. Contact Minnesota Leafless Gutters through our website, or call (612) 221-0362 to set up an appointment today.