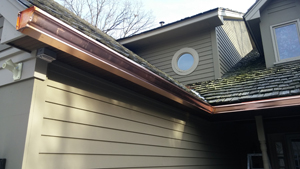 There are certain home improvement projects that you simply cannot ignore. One of those parts of your home that should not be ignored is faulty gutters that are failing to work efficiently. Poorly functioning gutters can cause significant damage to your home's foundation as the intent of a gutter system is to push excess water away from the structure of the home. So, if you've got gutters that are in bad shape, our team at Minnesota Leafless Gutters is here to provide high quality gutter services for our clients across St. Paul, MN.
Investing In A New Gutter System
At Minnesota Leafless Gutters, we understand that investing in a new gutter system is a big financial investment. Our team wants to ensure that each of our clients are totally satisfied with the service that they receive from our staff. Not only are we committed to providing high quality gutters, but we are also committed to providing high quality customer service as well. Some of the ways that we make sure all of our clients are satisfied with the work we provide include:
● Fair Pricing
● Complimentary Gutter Inspection & Consultation
● Access to a Wide Range of Gutter Finishes and Color Options
● Expert Installation
● Timely Completion of Gutter Project
● Seamless Fit
High Quality Gutter Material Options
Our clients in St. Paul, MN may be looking for different things when it comes to a new gutter system. Some clients may choose the most affordable material option, which is aluminum gutters. Other clients may be looking for gutters with a life expectancy of more than 50 years, which you get with copper gutters. Many of our clients are concerned about snow and ice accumulation, so they choose our steel gutter system. Regardless of what you choose, you can count on Minnesota Leafless Gutters to provide you with the highest quality gutter materials around.
Request a Free Gutter Inspection
It's ok if you don't know much about your gutters. If you have any concern around how your gutter system is functioning, our team at Minnesota Leafless Gutters makes it easy for you. Take advantage of our free inspection and let us come evaluate the true state of your gutter system. From there, we'll provide you with an honest evaluation and provide you with fair recommendations.
Ignoring poorly functioning gutters can turn into a costly mistake down the road. To request a free gutter inspection or to learn more about our high quality gutter services in St. Paul, MN, give Minnesota Leafless Gutters a call today at (612) 221-0362 or email mnleaflessgutters@gmail.com.