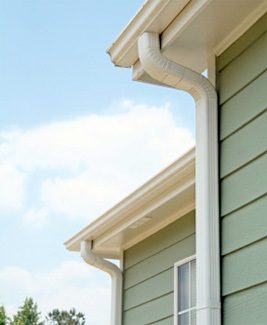 If your gutters are showing signs of age, it may be time to look into gutter replacement. At Minnesota Leafless Gutters, we've installed new gutters for a large number of residents across the state and have significant experience to ensure they're always installed properly. One area where we often receive questions revolves around the proper placement and number of downspouts. In this blog we'll discuss the importance of properly placing downspouts to ensure your gutters are functioning properly.
What is the Primary Function of Downspouts?
Downspouts work in conjunction with gutters to help prevent water damage. Homes without gutters and downspouts are much more susceptible to water damage than homes with a proper drainage system.
Downspouts are the vertical pipe like devices that connect to your gutters and help to redirect water away from your home.
How Many Downspouts Do I Need at My Home?
Most gutter replacement companies recommend installing one downspout for each 20 feet of guttering, however this rule of thumb can vary depending on the local weather as well as the design of the gutter system.
Benefits of Gutters and Downspouts
Adding or replacing gutters and downspouts to your home offers a whole host of benefits including the following:
Prevent flooding – Gutters and downspouts divert water away from your foundation, which is key especially if your home has a basement.
Protect entryways – What many people forget is that gutters help to protect water from running off your roof and soaking you when you're trying to enter your home. Avoid getting wet while fumbling with your keys by installing high quality gutters and downspouts at your home.
Protect landscaping – Water, snow and ice can fall rather forcefully from your roof directly onto the ground around your home's foundation. This area is also typically where you have a variety of different plants and other landscaping. Without gutters, this water, snow and ice can actually damage your landscaping. The pools of water that will inevitably form around your foundation will make it quite difficult for any type of plant to survive in these areas.
Reduce your insect problem – Insects are drawn to standing water and damp areas, which is exactly what you'll have around your home without gutters.
Ready to Learn More About Gutter Replacement or Gutter Installation?
Whether your current gutters need to be replaced or you're looking to install gutters for the first time, feel free to reach out to Minnesota Leafless Gutters today by phone at 612-221-0362. We'll be happy to come to your home to provide you with a free, no obligation estimate on gutter installation.