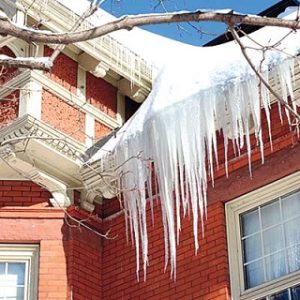 Snow is just a part of life in Minnesota and the Upper Midwest. There is really nothing to do about it, just prepare. For most of the year, our team installs and repairs seamless gutter systems, but as winter approaches, we want to share another service that we offer. Ice dams are an issue in our area each and every winter and can cause serious roof damage to your home. In addition to seamless gutter design and installation, we also specialize in roofing repair, and ice dam prevention and removal in St Paul.
An ice dam can form when the snow and ice that falls melts and then refreezes on your roof. One potential cause for this is that your attic may be too warm. The warm air from your attic melts the ice and snow and then more snow and ice falls, outdoor temperatures drop, and the moisture refreezes, causing a heavy piece of ice to form. That heaviness can put unnecessary pressure on your roof and eventually cause a leak and/or roof damage.
Ice Dam Prevention and Removal Services In St Paul Minnesota
Preventing ice dams in the winter generally involves a combination of the three following things:
1. Clean gutters: When your gutters are clear, they are able to function as intended, allowing water to flow through them away from your roof, your siding and even your foundation. It is always smart to have your gutters cleaned well before winter arrives.
2. Improved insulation: Part of the reason that ice dams form is because of a warm attic, so if you have additional insulation installed in your attic, the temperature difference will not be as pronounced so the liquid will not have the same chance to melt and then refreeze.
3. Adequate ventilation: Heat will leak from your home into your attic even when you have improved insulation. We recommend 1 square foot of vent for every 150 feet of attic floor area for venting when possible.
Protect Your Home This Winter From Ice Dams
You can do everything possible to prevent ice dams and still find that one has formed on your roof. When that happens, we recommend that you call the team of contractors at Minnesota Leafless Gutters. We can remove the ice dam without damaging your roof and help determine what is causing it to form so that you can prevent another one. For more information about ice dam prevention and removal, call us at 612-221-0362.