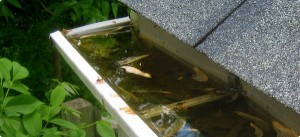 You may not think much about your gutters on a daily basis, but they perform a crucial function for your home each time it rains.  Your gutters reroute rain that falls onto your roof away from your home.  Your gutters act as a funnel and direct the water away from the foundation of your home to prevent water damage.  Minnesota Leafless Gutters installs gutter systems for those in the Minneapolis/St Paul area.  Our team of professionals can help determine the best possible gutter system for your home to ensure that your home will not be susceptible to water damage.
Gutter Options For Your Home
The importance of gutters is clear — they protect your home from water damage.  And there are a wide variety of different types of gutter systems that can be installed for your home.  Seamless gutters do not take away from the look of your home and do not leak. They only have seams on the inside and outside corners for a fluid look. You hardly notice them.
Leafless gutters are popular because they eliminate the need to get up on your ladder and clean your gutters.  These gutters do not allow leaves to build up and clog the gutter system, which could impede the normal and efficient water flow.  Both seamless gutters and leafless gutters are also extremely reasonably priced.
In addition to seamless and leafless gutters, we also offer copper rain gutters, aluminum rain gutters, steel rain gutters, gutter cover systems, half-round style gutters and k-style gutters.  Our team will help identify the best gutter system for your home and are able to customize any system to fit your home.
Super Customer Service And Fair Pricing
Minnesota Leafless Gutters also understands that you do not want your gutters to be an eyesore.  We offer more than 100 colors to choose from and come in many different materials, sizes and styles.  Our team can match your siding and the style of your home so that the gutters do not detract from the look of your home.  If you need to replace your gutters, or add gutters to your home, call Minnesota Leafless Gutters at 612-221-0362 for more information or to schedule a time for our team to come to your home and provide you with a free gutter inspection.  Our team is professional, friendly, will arrive at your home on time and leave your home and yard as clean (or cleaner) than it was before you arrived.