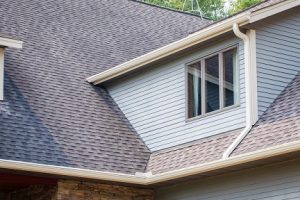 Your house is your most valuable investment and from time to time it is important to make sure that you are making home improvements to protect it from wear and tear and protect its value. If you are like the majority of homeowners in Woodbury Minnesota, you may not think much about your gutter system until there is some sort of clog or problem. The gutter systems that are generally installed on houses when they are built are simply not built to stand the test of time. As they get older, they begin to bend, crack and no longer do their job of pushing water away from the exterior and foundation. Once the original gutter system stops working as it should, it is time to consider replacing it.
A seamless gutter system is a very sound investment for many reasons. Some of the many benefits include:
● Low maintenance: When you invest in a seamless gutter system you will no longer have to climb up on your gutters to clean out the dirt, grime, leaves and debris. Only water will be able to enter the gutters so they will remain clear and functional 12 months a year.
● Protect the siding and foundation of your home: The exterior of your home is constantly exposed to the elements – rain, snow, ice, wind, and even hail. Your gutter system plays a critically important function for protecting your home from water damage. The main function of your gutters is to push water away from your home and keep it from pooling on your roof. A new seamless gutter system will make this process even more efficient.
● Solve water problems on your property: Water can cause serious problems around your home, particularly when it cannot flow properly. In the winter, if water cannot get down via your gutters, it will collect on your roof, freeze, and refreeze, causing an ice dam. These can be very heavy and cause a serious problem on your roof. In addition, if the gutters are not working properly, your foundation can be exposed to water, causing costly damage.
● Strong and durable: Seamless gutters are very strong and durable. This investment will last you for many, many years. Our gutters come in many different colors and can be custom fit to your home.
Seamless Gutter Installation In Woodbury MN
If you would like more information about the seamless gutters systems installed by our staff, give Minnesota Leafless Gutters a call today at 612-221-0362.