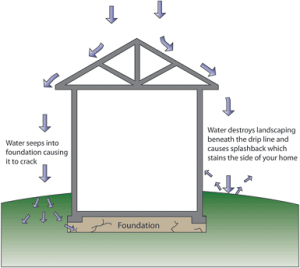 Fall is here. The leaves have started to turn to beautiful shades of autumn. Soon, those red, orange and yellow leaves will begin to fall as winter approaches. For many, raking leaves is not the most fun fall outdoor activity, but it has to be done before the snow and ice arrive. The other thing that happens with leaves this time of year is that when they fall, they inevitably fall into the gutters that are attached to your home. Your standard gutter system is not built for the leaves that fall – they are made to allow water to flow away from your home, to protect it from water damage. When leaves fall into your gutters, they get in the way of the water that needs to run through and can get clogged up and cause water to back up onto your roof, or to leak from the seams of your gutters.
Benefits Of A Seamless Gutter System
Minnesota Seamless Gutters offers an innovative type of gutter system that keeps the leaves, dirt and debris from entering the gutters so that the water can continuously flow exactly as it is supposed to. This means that your home is better protected from water damage, and you do not have to spend any time cleaning your gutters! That's right! No ladders, no reaching and no fishing out wet leaves and other debris. Instead, your gutters are protected, and water is the only thing that can enter. Our seamless gutter systems are affordable and effective, and you can choose a style and color that complements the look of your home. Other benefits from installing a seamless gutter system on your home include:
● Gutter system will be customized to fit your home
● We can use the heaviest gauge sheet metal for your gutter project in your choice of material – aluminum, steel, or copper. You can also choose the color and finish.
● Free gutter inspection and thorough explanation of findings
● Fair pricing and multiple options to meet your needs
● Our licensed and insured contractors have extensive experience and will install your gutter system carefully and correctly, the first time
● Our team can also complete roofing repairs and ice dam removal in the winter.
Gutter Installation Contractors In Minnesota
So, this fall, think about whether your home is protected as it should be from the Minnesota elements. If you think that your gutters are not working properly or you are ready to upgrade so that you no longer have to climb up to clean them out, give the team at Minnesota Leafless Gutters a call at 612-221-0362 for more information.