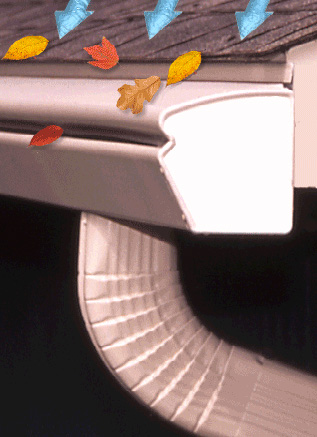 It's been quite a severe winter here in Minnesota, which is why many homeowners are dealing with ice dams and looking for ways to prevent them. You may have looked into adding insulation, or using high pressure steam to remove the ice dams, but have you ever thought about leaf proof gutters? Well, the team at Minnesota Leafless Gutters thought it would be a good idea to explain the benefits of using leaf proof gutters to help prevent ice dams.
How Can Leaf Proof Gutters Prevent Ice Dams?
Ice dams can become much worse if you're using traditional gutters. With standard gutters the ice can begin to form inside your gutters and form a mound of ice that can eventually create an ice dam as the water on your roof begins to melt and refreeze.
With leaf proof gutters, you won't have to deal with ice freezing inside your gutters and ultimately causing ice dams. While leaf proof gutters may not offer 100% protection against ice dams, they can be a great first step to reduce ice dams at your Minnesota Home.
Additional Ways to Prevent Ice Dams
Aside from leaf proof gutters, there are several other services that can help prevent ice dams at your home.
Insulation – The primary cause of ice dams is an attic that's too warm. To help prevent heat from escaping from your home into your attic, you need to add additional insulation. If you notice bare areas on your roof while other areas still have snow, this could be a sign that you don't have sufficient insulation in your attic. You should also pay special attention to any access doors, or drop-down stairs that lead into the attic. These are common areas where heat escapes from your home into your attic.
Ventilation – One common mistake individuals make when installing additional insulation is that they cover up soffit vents in the attic, which leads to poor ventilation. A general rule of thumb related to ventilation is 1 square foot of venting for every 150 feet of attic flooring. If you're unsure whether you have adequate ventilation, feel free to reach out to Minnesota Leafless Gutters today.
Interested in Learning Additional Ways to Prevent Ice Dams?
If you're interested in learning more about how leaf proof gutters as well as insulation and proper ventilation can help to prevent ice dams, feel free to reach out to the Minnesota Leafless Gutters team today by phone at 612-221-0362. We'll be happy to come out to your home to assess your current situation to ensure ice dams are prevented before they cause damage to your home.