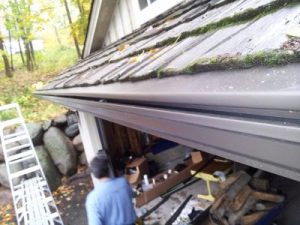 Are you looking for gutters or downspouts for a new home? Are you sick of cleaning out your gutters and are considering getting new gutters? Are your gutters working improperly because of leaves and debris? If you are thinking about getting new gutters then you should consider Minnesota Leafless Gutters. We are here to provide you with new gutters, replace old, damaged cutters or help reduce the cleanup by installing gutter covers so you do not have to waste time and endanger yourself by climbing up ladders. Our company has been serving St. Paul, Minnesota for many years and thanks to our customers we have been running a successful business and providing the twin cities with quality work and quality gutters. When you work with us, we promise that we will provide you with the best gutters around and the best customer service!
Leafless Gutters St Paul Metro
At Minnesota Leafless Gutters we are here to provide St Paul and the surrounding suburbs with quality gutters and downspouts to help make your life easier. When your gutters get full and water leaks out and lands by your house, this can ruin your foundation. As many of us are always crunched for time, our gutters can allow you to have one less thing to worry about. Our seamless gutter systems mitigate water problems from the roof to the foundation by directing water away from your building.
When we come out to your property our trained professionals inspect your property and determine what is best for your home. After the inspection, they will show you the gutter size we recommend for your home and the various types of materials and colors to choose from to suite your personal style. We understand the importance of aesthetics and that is why we have several materials and over 100 colors to choose from. You can have great looking seamless gutters covered so you never have to climb up that ladder and scoop out leaves and debris—at surprisingly affordable price!
At Minnesota Leafless Gutters, we have been providing service for St. Paul home owners for more than 17 years. We have a large portfolio of reviews and endorsements from happy and satisfied customers as well as pictures of many homes that we have been grateful to work on to customize with our products and services. Each one of our jobs comes with a lifetime transferable warranty. We provide service to all of the twin cities and would be honored to work with you! Give us a call today and we can start making your gutters, perfect.