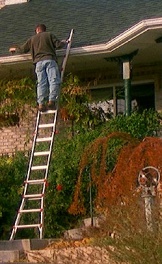 Are you looking for a leafless gutter company close to me in the St. Paul, Minnesota area? If so, our team at Minnesota Leafless Gutters should be the first company you call. We're confident in our services because we've been helping Minnesota residents with all their leafless gutter needs for decades. We take great pride in our work and will do our best to ensure you're always 100% satisfied at the conclusion of any job we complete. Call us today if you're in need of gutter replacement or repair.
What to Look for in a Leafless Gutter Company
If you're convinced that your gutters need to be replaced or repaired, it's important to hire a professional gutter installation company with experience to ensure the project is completed correctly. We've put together a checklist of things to look for when hiring a gutter installation company:
• Experience – When interacting with any type of company that will be doing work on your home, you want to hire an outfit with plenty of experience. We have almost 20 years of experience helping St. Paul residents ensure their gutters are functioning properly.
• Beware of Inferior Materials – Have you received a gutter installation quote that seems too good to be true? Well, it may be exactly that! Many gutter installation companies will use inferior materials to cut costs. We only use seamless gutters made from high strength materials to ensure they stand up to years of the harshest Minnesota weather!
• Warranty – Always get any warranty in writing when it comes to exterior home repairs. At Minnesota Leafless Gutters, we offer a lifetime transferable warranty for our labor and materials. This type of warranty is almost unheard of in the gutter industry!
• Access to the Owner – Rather than hire a large company with multiple layers of bureaucracy, we always provide our owner's contact information to all our customers. This means that you can give our owner, Tim a call at any time if you have questions or concern about any gutter installation or repair project.
Schedule a Gutter Installation or Gutter Repair Estimate?
We hope we've given you a few tips when it comes to hiring a professional gutter installation company. If you'd like to learn more about our company, including the high quality seamless gutter products we use, don't hesitate to contact us today by phone at (612) 221-0362.