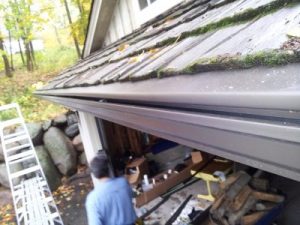 Has the gutter system on your home seen better days? What's the point of having gutters if they aren't doing their job properly? If it is time to invest in a new gutter system, you should consider searching for a leafless gutter system near you. The good news is that our team at Minnesota Leafless Gutters is right around the corner. With every leafless gutter system that we take on, we aim to solve any water issues that you're dealing with.
Doesn't it seem like right after you clean your gutters, more leaves and debris falls right back into the gutters? This can become very frustrating and can cause added pressure on your existing gutter system and roof. At Minnesota Leafless Gutters, we offer the perfect solution to gutter buildup. By investing in our leafless gutter system that includes effective and long lasting gutter covers, your leafless gutter system will prevent leaves and debris from entering your gutters while still allowing water to run to the down spout. These gutter covers can be installed on your existing gutters or on a new leafless gutter system from our dedicated team at Minnesota Leafless Gutters. Most of our clients are extremely happy when we tell them that they can put their ladder up in storage for good thanks to these top of the line gutter covers.
Every Gutter Job is Inspected by Our Owner
When finding a leafless gutter system near you, there's not many companies that send the owner to your property to inspect the work done by the gutter specialists. At Minnesota Leafless Gutters, our owner Tim comes to all properties to inspect the completed project to make sure that it meets his expectations. This extra step provides peace of mind to our clients that their leafless gutter system is seamlessly installed to their home. And did we tell you about the lifetime transferable guarantee on all our gutter installations?
Say Bye to Gutter Buildup and Gutter Cleaning
Concerned about the overall price of a new leafless gutter system? At Minnesota Leafless Gutters, we make it easy on our customers by offering a free gutter inspection and consultation. During this time, we'll evaluate the health of your existing gutters and provide you with affordable repair or replacement options. We allow our clients to choose from a wide range of long lasting gutter materials including copper, aluminum and steel.
Request Your Gutter Estimate Today
So, if your existing gutter system is in bad shape, it is time to call Minnesota Leafless Gutters. Offering a leafless gutter system near you, give us a call today at (612) 221-0362 or email mnleaflessgutters@gmail.com to request your free estimate.