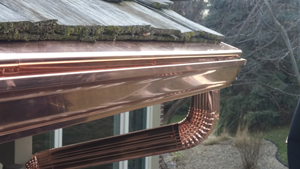 When choosing new gutters for your home, it's important to consider all of your options so that you can make an informed decision – a decision that takes into account your budget, your home's design, and the weather your gutters will have to withstand during harsh Minnesota winters. At Minnesota Leafless Gutters, we want to help you choose the best leafless gutter system for you and your home, and that's why we offer seamless gutters in a variety of styles, colors, and materials, including aluminum, steel, and copper. Our St. Paul, MN seamless gutter systems are crafted so that you can have leafless gutters year-round, ensuring that you have longer-lasting gutters, cleaner gutters, and gutters that won't have you climbing your ladder every few months to remove leaves and debris.
K-Style Gutters and Half Round Gutter Systems
Choosing the shape, or style, of your seamless gutter system could be your first step in determining which gutter system is best for you, so it's important to know the difference. Some homeowners don't realize that there are differences between k-style and half round gutters, or that they can choose the shape of their gutters. We offer both half round and k-style gutters, each of which has its own set of advantages and disadvantages. K-style gutters have become a more popular choice in recent years, as the squared-off shape complements the design of most modern homes. However, k-style gutters are always left with residual water because they have corners and sharp edges. Half round gutters, though, are rounded, allowing water to flow freely and drain completely, an advantage that prevents corrosion in less durable materials. However, half round gutters are more liable to bend than k-style gutters, so if they meet with excessive weight, they may become warped.
Affordable Aluminum Gutters
Aluminum gutters have the advantage of being our most affordable option, and they can last for about 15 years, if not damaged. They are more prone to denting and damage than our more durable materials. Aluminum gutter systems are the most popular gutter choice these days because they complement most contemporary home designs.
Durable Galvanized Steel and Stainless Steel Gutters
Galvanized steel is a step up from aluminum gutters, offering a more durable, stronger material that can also last about 15 years. However, galvanized steel will often rust eventually, which is something that can be avoided by investing in a stainless steel gutter system, which is more expensive but will last much longer than 15 years, if properly maintained.
Long-Lasting Copper Gutter Systems
Copper is both the most expensive and most cost-efficient gutter system material available. Copper gutters can last upwards of 50 years, far outstripping the lifespan of any other material and requiring much less maintenance, as copper does not rust or corrode.
At Minnesota Leafless Gutters, we'll help you choose the right gutter system for your home, providing you with all of the options you need to choose a long-lasting and affordable gutter system that will be well worth the investment. Contact our St. Paul, MN gutter installation company at 612-221-0362 or mnleaflessgutters@gmail.com, and get a free estimate today.