Reduce Ongoing Maintenance Demands of a Home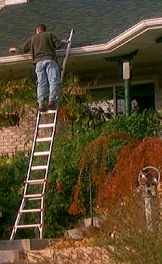 The majority of Minnesota residents can appreciate the long days of summer, even the cooler days of fall and want to spend as much time as possible enjoying the comfortable, below freezing weather. Any measures that you can take to Shorten Your Home Maintenance List can pay off in additional time spent enjoying the nice weather. There are things that you can still do this season to Reduce Ongoing Home Maintenance Demands. Low maintenance and maintenance free upgrades can be a wise choice for homeowners that want to save valuable time while the weather is still nice. Consider a time saver such as installing a Leafless Gutter System from Minnesota Leafless Gutters.
Maintenance Free Home Upgrades
Who wants to waste a beautiful day with a list of ongoing home maintenance demands? If you would prefer to spend the best weather days of the year on activities of your choosing, the answer may be installation of Low Maintenance or Maintenance Free Home Upgrades. Below are some suggestions for Minnesota homeowners wanting to save valuable time and shorten the to-do list.
– Top Quality Leafless Gutter Systems
Minnesota Leafless Gutters custom fabricates Seamless Gutter Systems that are engineered to last. MN Leafless Gutters are constructed of the thickest gauge gutter materials in the industry. Installing our Top Quality Gutter Covers completes the system perfectly. The innovative leafless design eliminates the need to climb up high onto a ladder for removing leaves, twigs and other debris. You can cross that task off of your home maintenance list and move onto a more enjoyable activity.
– Low Maintenance Decking Materials
Now that your days won't be wasted up on a ladder cleaning gutters you can find something more enjoyable to do with your valuable time. You may choose to spend your extra time sunning yourself on a backyard deck. Installing low maintenance decking materials cuts your chore list down to size.
– Maintenance Free Siding
Maintenance free siding is another way to shorten up your list of chores around the home. Quality vinyl or cement fiber siding makes a wonderful compliment to an aesthetically pleasing Leafless Gutter System.
– Low Maintenance Landscaping
Save time and resources that go into creating beautiful landscaping for your yard. Low maintenance landscaping options can be just as pleasing to the eye and reduce your water bills at the same time. Installation of a Minnesota Leafless Gutter System can be a great way to direct rainwater away from the foundation and into a beautiful, low maintenance rain garden.
Seamless Gutter Installation St Paul/MPLS
Minnesota Leafless Gutters specializes in the fabrication and installation of Top Quality Gutter Covers and Seamless Gutter Systems. Our goal is to provide you with a very functional gutter system that is engineered to last. You can cross cleaning out gutters off of your chore list. What you do with all of your extra time is your business.
For a Free Estimate on a Top Quality Seamless Gutter System with installed Gutter Covers call: 612-221-0362. OR Email: Tim@mnleaflessgutters.com