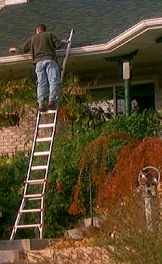 It doesn't matter who you are; we all prefer leafless gutters to leaf-filled gutters. It doesn't matter if you've got an eight-foot wooden ladder or a 15-foot metal ladder, a slippery roof or an easy-to-walk-on roof; no one really wants to clean their gutters. That's why at Minnesota Leafless Gutters, we've made it our business to help Woodbury, Minnesota homeowners stay off their ladders and safely on the ground. Our seamless gutter systems, paired with gutter guards to protect your gutters from leaves and debris, will ensure that your gutters are leafless gutters. So skip the rooftop spring cleaning, and don't spend a dime on a professional gutter cleaning company; instead, look to Minnesota Leafless Gutters to help you keep your gutter clean without any cleaning necessary.
Importance of Clean Gutters
As Minnesota homeowners ourselves, we know just how tiresome gutter cleaning can be. The time, energy, and maybe even money you have to spend every year to complete such a menial task can drive any homeowner to neglect their gutters. Compared to other home improvement and upkeep projects, keeping gutters clean probably doesn't seem as important as the other items on your housekeeping list. However unglamorous gutter cleaning is, though, even less desirable a task is having them replaced when they've been neglected. When gutters aren't cleaned and are left to fill up leaves, pine needles, seed pods, and other muck and debris, there can be only one outcome – irreparably damaged gutters. Built-up debris in gutters causes blockage, creating pools of water that can lead to rusting, bending, leakage, and even breakage.
Keep Gutters Clean with Leafless Gutter Guards
In order to make sure your gutters stay clean, especially if you're someone who can't stand to clean your gutters, invest in gutter guards to ensure your home has leafless gutters. With gutter guards, your gutters will be almost completely covered, protecting them from leaves and other debris that can easily clog gutters. Rather than leaving your gutters completely vulnerable to catching whatever falls or washes into them, gutter guards leave only a small sliver of open space between your roof and gutters, ensuring that water can easily flow into and through your gutters without bringing large debris along for the ride.
Longer-Lasting Gutters with Leafless Gutters
When you choose to invest in gutter guards, you're investing in the promise of leafless gutters; you're investing in longer-lasting gutters, protected from the debris that would clog and damage uncovered gutters. If gutter guards seem like the way forward for you and your Woodbury, Minnesota home, contact Minnesota Leafless Gutters today. Our St. Paul, Minnesota gutter company will quickly help you make the simple and affordable switch to leafless gutters by installing our gutter guards, made to match your gutters, so that your gutters will last longer and stay cleaner. Call us today at 612-221-0362, or send an email to mnleaflessgutters@gmail.com, and see how gutter guards can transform your leaf-filled gutters into leafless gutters.