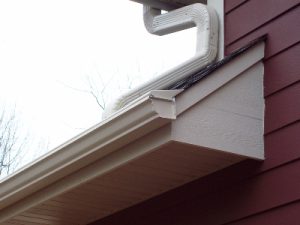 When you move into your home, your gutters may be one of the last things on your mind. You are looking at the home's location, the size of the yard and the rooms, the kitchen and maybe the condition of the roof and siding. For most homes in the area, standard gutters are installed on a home when it is built. These may function well for a period of time, but in a climate like Minnesota, these standard gutters have their limitations. They clog easily, can separate from your home, allowing water where it should not be. Gutters that are not well maintained or are made with subpar materials, can cause significant and costly damage to your home.
Benefits Of A Seamless Gutter System
A new seamless gutter system is a great investment into your home. Seamless gutters do not allow dirt, leaves and debris inside and keep water moving away from your roof and foundation. In addition, because water can move easily, it reduces the risk of an ice dam forming on your roof, which can lead to leaks and other damage. Minnesota Leafless Gutters is so confident in the quality and function of our gutter systems that we offer all customers a lifetime transfer warranty for all labor and materials. We guarantee that the gutter system we install will last for the life of the home! This is highly unusual and a great bonus if you are buying (or selling) a home with one of our gutter systems. We will continue to care for your home's gutter system even after you sell. This is a nice thing to be able to convey to your buyer, letting them know how much you cared for the home while you were there.
Seamless Gutter Installation In St. Paul Minnesota
The gutter systems installed by Minnesota Leafless Gutters are safe, durable and come in many different styles and colors to meet your needs. The most important benefit of our gutter systems is that you can count on your gutters to function the way they should pushing water away from your home. In addition, however, you can also get a gutter system that improves the curb appeal of your home! One additional huge benefit is that you will never have to climb a ladder to clean your gutters again. For more information about our seamless gutter system and the lifetime transfer warranty, give us a call at 612-221-0362 to speak with a member of our team.