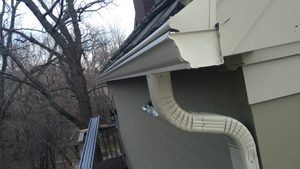 When it comes to your gutters, the installation process is just as important as the new gutters themselves. There is a lot of math involved in addressing a gutter install. Slope of the roof, square footage of the roof, How many downspouts are needed and where to place them. What good are new gutters if they're not properly installed? Minnesota Leafless Gutters Serves St Paul, Woodbury and the east metro. and has  the experience and attention to detail to ensure that your new gutters fit properly.
Seamless Gutter Installation St Paul, MN
Regardless of the style or materials that you choose for the new gutters on your home, our installation professionals will have them fitting onto your residence like a glove! You can count on our gutter installation professionals to be your local leader in experience, detail and customization. Every step of the seamless installation process is completed with your best interests in mind. Rest assured that our local gutter installation team will complete your project on time. Additionally, our staff will clean up exceptionally well after ourselves to make sure that your yard is left in a beautiful state. There are plenty of gutter installation contractors in the area, but none that have the experience and customer service focus as our team at Minnesota Leafless Gutters.
Complimentary Gutter Installation Estimate
At Minnesota Leafless Gutters, we want you to be totally comfortable in the investment that you make when it comes to your gutters. Gutters are built to last, so don't settle for mediocrity when choosing your local gutter installation provider. What is great about a partnership with our dedicated installation experts is that we provide our potential clients with a complimentary gutter installation estimate. This estimate will go over your cost options, breaking down the cost differences between aluminum, steel or copper gutters as well as Half-Round or K-style gutter styles. There are no hidden charges with our estimates. What you see is an accurate depiction of your true out of pocket cost with this project.
Seamless Gutter Installation Company
As a local gutter installation contractor, we have a passion for providing our clients with seamless installation services that will help you get the greatest life expectancy out of your new gutters. If you're in the market for new gutters, our team at Minnesota Leafless Gutters is happy to provide you with a complimentary gutter installation estimate. Quickly you'll find that our affordability, expertise and attention to detail cannot be matched by other local gutter installation providers. Give us a call today at (612) 221-0362 or email mnleaflessgutters@gmail.com to learn more.