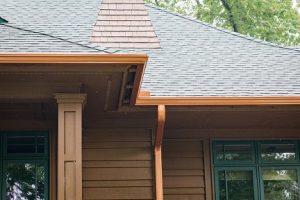 One of the most requested materials for a new gutter system is copper. This is because copper does not rust or corrode, so will withstand the harsh weather and can last up to 50 years. That's right! 50 years! Copper is ideal for the Minnesota climate because it is so durable and strong and low maintenance. Minnesota Leafless Gutters can install a new copper gutter system for your home or your business.
Copper may be a more expensive choice at the time of installation, but generally this cost is made up over time. Copper can be used in any environment, is a strong metal and because it will never rust, it will look and function well for many, many years. Our crew can install seamless copper gutters, which are much easier to install and maintain than older copper systems. We use metal roller technology for these gutter systems and find that our customers are really satisfied with the look and the functionality of these gutter systems. Copper does not require painting and looks even better with age.
Benefits Of Seamless Gutters
One major benefit of our seamless gutter systems is that they require no climbing ladders to try and pull out dirt, sticks, leaves and debris. Seamless gutter systems only allow water in, so they stay clean and do not clog like traditional gutter systems. This allows the gutter system to work just as it should, pushing water down from your roof and away from your home's foundation.
We all know that Minnesota weather can be extreme. Cold temperatures, windy conditions, rain, snow and ice. This can create major problems for traditional gutter systems that are normally installed on homes. Upgrading your gutter system may not be the first home improvement project you think about, but it is a really important thing to pay attention to. A properly functioning gutter system can protect your roof, your siding and your foundation, all critically important parts of your home.
Local Gutter Company In St Paul
Minnesota Leafless Gutters has been serving the community of St. Paul, MN for nearly two full decades. We are customer focused and offer high quality service, many options when it comes to gutter materials, experienced and professional staff and competitive prices. All of our gutter work even comes with a lifetime warranty for labor and materials that transfers to the new owners of your home, should you choose to sell. For more information, give our owner, Tim, a call directly at 612-221-0362.